The first Tibetan orchestra of vision-impaired musicians
2018-07-16 09:52:00 | From:China Tibet Online
Inside No. 52 of Anju Plaza in eastern Jiangsu Blvd of Lhasa City is an unique Tibetan courtyard, where there's nine vision-impaired residents. Six of them formed the first orchestra with vision-impaired musicians in Tibet. The reporter recently interviewed the residents of the this plaza that the locals call "music box."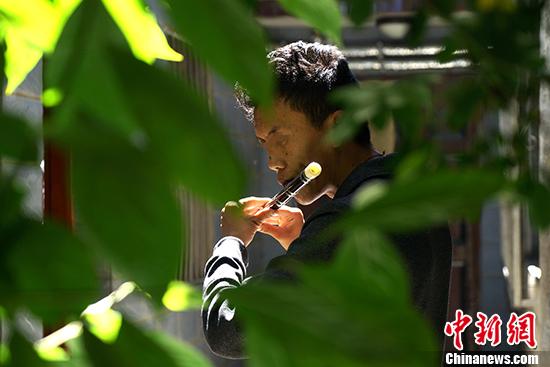 Tashi Phumtsog, a member of the orchestra, practicing the flute.
In China, a significant number of the vision-impaired population are employed in the massage industry. In 2008, Dakyung, who was still at the School for Vision-Impaired Children of Lhasa at the time, wasn't satisfied with this career, he wanted to do other things. "I like to to play the flute, I like the feeling of fingers playing among the flute holes, and the wonderful music it made." Said Dakyung, who said he wanted to become a musician.
In the Spring of 2014, Dakyung met the 60-year-old Jigmi Dorje, who was a retired elementary school teacher of music. Jigmi is experienced at playing the yang qin, the flute, the erhu, the Chinese guitar, and other traditional Chinese instruments. On July 3rd, Jigmi said during an interview that that was the first time he taught vision-impaired people to play music.
"Among the earliest members of the orchestra, Dakyung had flute-playing experience, so I asked him to spend more in his breathing practice. Jigba was not completely blind, so I had him play the yang qin." Said Jigmi. Tsering Chodron wanted to learn the violin but her wrists weren't suited to the instrument so she changed to the erhu. In addition, Jigme Dorje and Tseren Yangzom learned to play the Chinese guitar and the Beijing erhu.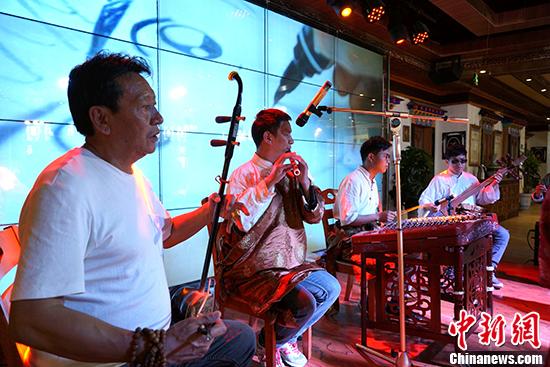 Jigmi Dorje (first left), playing at one of the orchestra's concerts.
In 2014, Jigmi Dorje spent more than 10 thousand yuan to purchase instruments for the students, as the first gifts for their musical journey. In July of 2014, the orchestra held its first concert. In 2015, Damchung registered the orchestra, calling it "Kada Garbu," meaning "White Hada in Tibetan."
"When we play concerts, we can't see the audience's expressions, but we can hear their claps and cheers, it's as if we were celebrities." Said Jigme Dorje.
Every day at dusk, the six members of the orchestra would play at a Tibetan restaurant on Barkor Street, which is two km away. Whenever the music starts, either soft and gentle or strident and expressive, the claps and cheers from the audience would also start.
Damchung said the orchestra members' income are higher than what they'd earn in the massage industry, and even more importantly, they receive joy from their music.