Chinese scientists launch three poles cooperation initiative
2018-06-25 10:18:00 | From:China Tibet Online
The Polar 2018 Open Science Conference, organized by the Scientific Committee on Antarctic Research (SCAR) and the International Arctic Science Committee (IASC), was held in Davos, Switzerland from June 19 to 23. Several well-known scientists from China were invited to the conference and presented reports.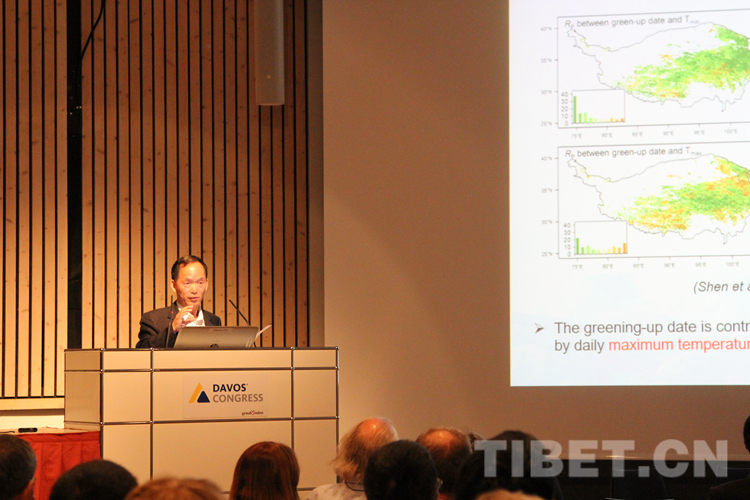 During the conference, scientists from China also launched the "Third Pole (Qinghai-Tibet Plateau), Antarctic, and Arctic Research Cooperation Initiative" and organized the "From the Third Pole to Three Poles" scientific forum, where scientists from countries including China, Norway, and the U.S. gave reports and held discussions.
Yao Tandong, a fellow at the Chinese Academy of Sciences, said that the Antarctic, Arctic, and Third Pole are the most sensitive areas in the world to climate change. Environmental changes among the three poles are also closely linked, and the three poles are vital to the sustained development of the world's water resources and ecosystems, as well as disaster prevention and reduction. To combat global climate change and better promote multi-round research into the three polar regions, urgent cooperation is needed.
"The three poles initiative proposed by the Chinese scientists is very important and can unite institutions and forces in these three fields, benefitting scientists in China and other countries. There are many excellent scientists in China, and I have learned a lot when working with them," said Professor Nils Chr. Stanseth of the University of Oslo, Norway.
Dr. Tobias Bolch of the University of Zurich, Switzerland, has been engaged in glaciological research for nearly 15 years.
"In cooperating with Chinese scientists, it is evident that China is rapidly developing in the field of earth science research. The international influence of Chinese scientists is also growing," he said.
In recent years, the world has seen many advancements achieved in research on the Third Pole in terms of publications and international cooperation.
Chen Deliang, a professor at the University of Gothenburg, Sweden, and a member of the Royal Swedish Academy of Sciences, is confident when speaking about cooperation on the three poles.
"First, this conference has put the Third Pole in an important position, which shows that everyone recognizes that polar research is very important for global climate change, and that the Third Pole is an important part of polar research. With regards to three poles cooperation, this conference has covered a number of specific issues and steps, and related discussions have also been fruitful."
The World Polar Conference is held every two years. It is a distinguished event in the field of polar and high altitude research, which is dedicated to providing scientific support for the common challenges faced by polar and high altitude regions.
Nearly 3,000 scientists participated in this year's conference with support from the Swiss Polar and High Altitude Research Committee.
Related News
China's first precise monitoring of the ecological environment of plateau rivers and lakes has been conducted recently.

Vegetables grown in the Qinghai-Tibet Plateau will be served in Hong Kong in October, according to Litang county government Tuesday.

Wearing red lambskin clothing and a fur hat, Rigzin cracked a herding whip to drive his sheep home. In front of his house, he took a photo with the livestock, for perhaps the last time on the prairie where he has lived for more than 40 years.