Not Only Pleasing to Eyes, Tibet Gets Her Special Treat for Foodies
2018-07-31 11:30:00 | From:Tibet Vista
Until you find it hard to stop placing your fingers on scrumptious Tibetan cuisines, few would believe your Tibet tour actually turns out to be a blessing in disguise for the foodies. Indeed, too many, speaking of Tibet, the typical image that pops into one's mind would be rolling Himalayan peaks, deep blue sky, and mysterious Buddhist monasteries, and devout local Tibetans. Besides, the extreme altitude, thin air, and harsh alpine climate in the vast untouched wilderness make it even more difficult for people to associate Tibet with an ideal destination for a culinary tour.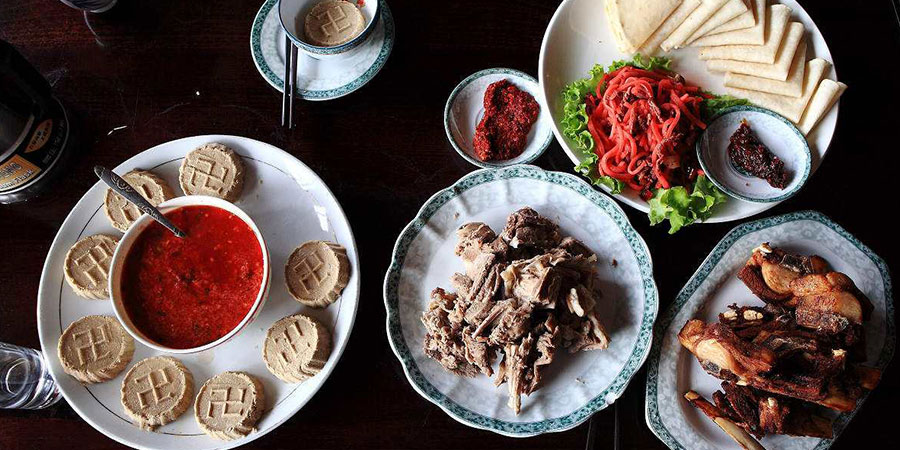 Nevertheless, as you travel in Tibet, you may be surprised to find that the reality is quite the opposite. Due to the proximity to Nepal, and India and trade with neighboring provinces in inland China, a melting pot of culinary culture can be found in Tibet, esp. in its capital city-Lhasa. Not only can you enjoy traditional Tibetan dishes, Nepali, Indian and western and Chinese cuisines are also readily available in Lhasa and parts of Shigatse.
And for centuries, the resourceful local Tibetans have used ingenious ways to adapt themselves to the inhospitable environment on Tibetan plateau. They grow highland barley that is resilient to tough alpine climate, raise Tibetan yaks and sheep to provide major source of calories in their daily diet and make full use of ingredients available to create the staple food like Tsampa, roasted-barley flour and popular beverage, such as salty yak butter tea, sweet tea and Chang, home-made barley wine and popular Lhasa beer with refreshing barley malt flavor, and plenty of tasty snacks like Tibetan yogurt, Tibetan pastry, etc.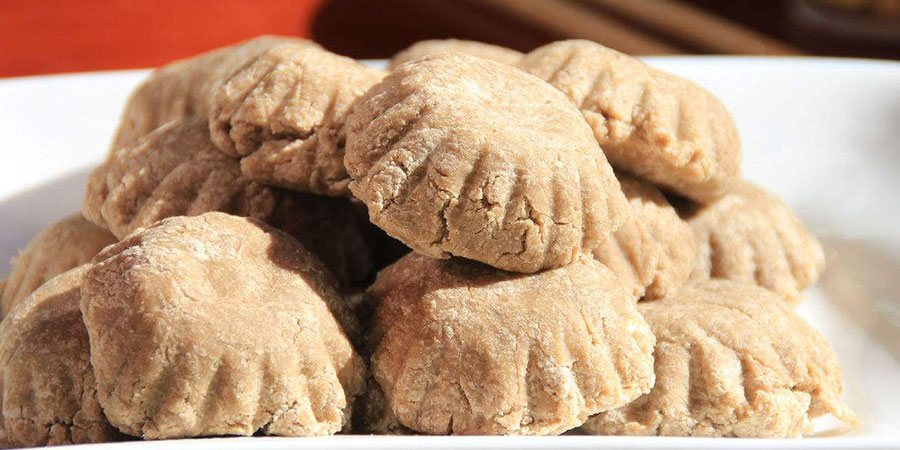 Tsampa
So, as you visit Tibet, in addition to the second-to-none lofty peaks, turquoise alpine lakes and magnificent Buddhist sites, Tibet will embrace each visitor with a special culinary treat. As the most reliable Tibet tour operator in Lhasa for over 10 years, our seasoned Tibetan guides know precisely how to blend your day-to-day tour with a fine exploration of Tibet via its unique cuisines. Let's find out what for foodies to expect for your Tibet tour.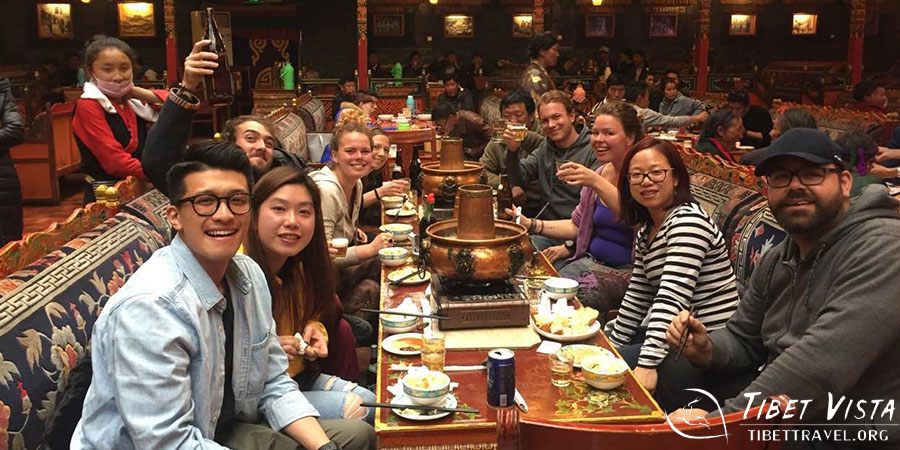 Tibetan Food
Dine in Tibetan Sweet Tea House
Whether you join our group tour or private tour, do not miss the culinary experience in a sweet tea house in downtown Lhasa. Sit with our Tibetan guide on a long bench and place 8 CNY on your table, the waitress will come quietly to your side and fill the cup with delicious sweet tea.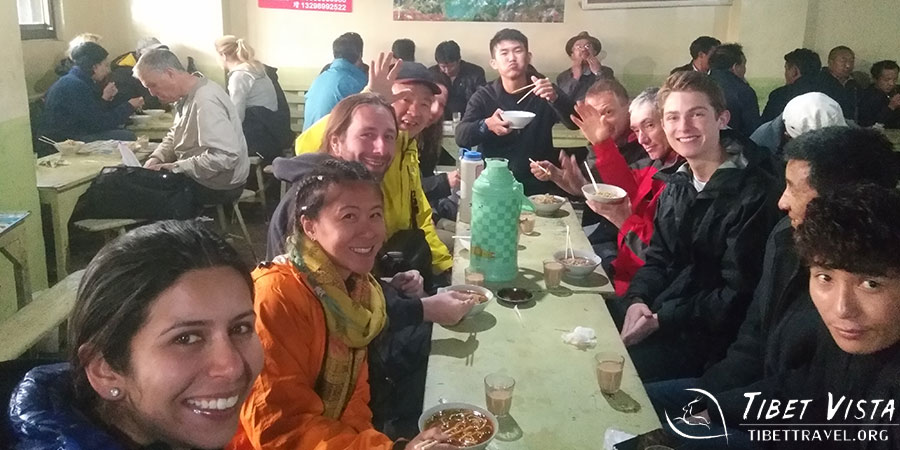 Sweet tea house in Lhasa
For foodies, you may sample some typical Tibetan dishes like Thenthuk, popular Tibetan noodles made of yak stock and vegetables, fried potatoes, and dried yak meat, and sweet Tibetan yogurt, and Tibetan bean jelly in chili sauce, and Tibetan momo, kind of unique dumpling in Tibet, etc. The boisterous atmosphere in a sweet tea house and appetizing Tibetan snacks.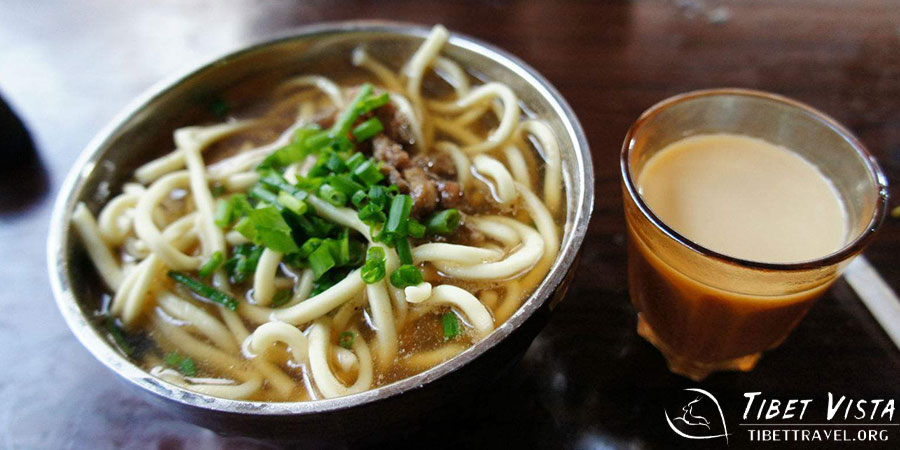 Tibetan noodles
Dine in Tibetan Restaurants during Your Tibetan Journey
Undoubtedly, Lhasa is the place where you can taste a variety of food, wholesome Chinese set meal, Nepali yak curry, finger-licking Indian Tandoori Chicken and standard western continental food. Some even prefer to give a go of Tibetan hotpot and yummy Tibetan pigs and enjoy the refreshing flavor of well-known Lhasa beer. Of course, much more to explore in numerous restaurants across Lhasa.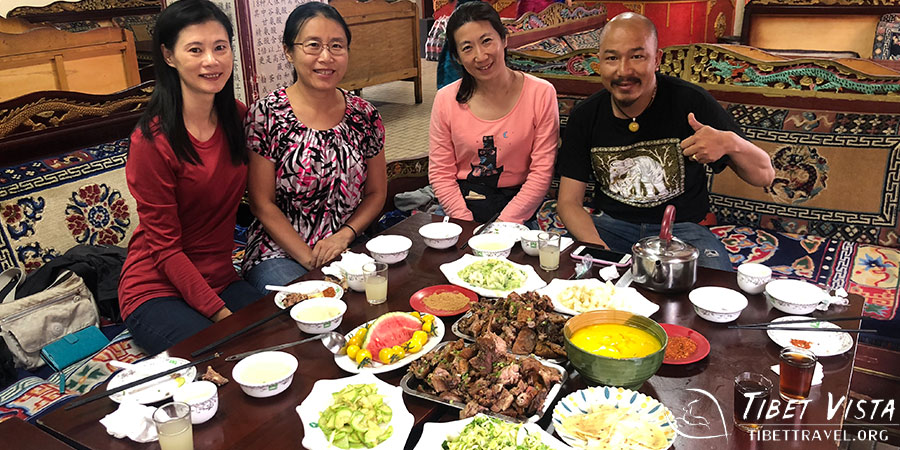 Tibetan pigs and other tasty food
And if you travel to EBC or western Tibet, the simple rule is that the more remote regions you travel, the food would become much simpler and more basic. However, we would also manage to take you to the restaurant with the best bargain and wholesome dishes.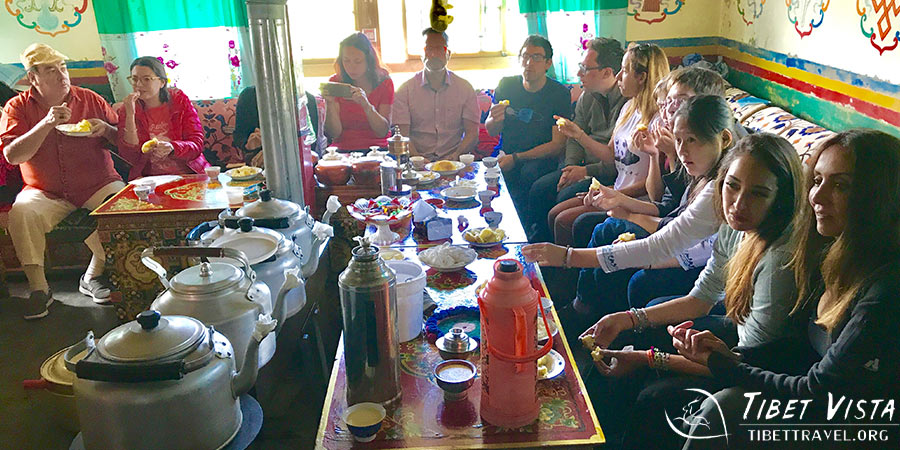 Enjoy Local Food When Visiting Tibetan Family
With time permitting or for some private Tibet tours, you will be lucky to visit the houses of local Tibetans and be their guest. The welcoming house owners will greet you with warm sweet tea and place many traditional Tibetan snacks on the table for you. You will get a rare chance to taste home-made Tibetan pastry, Naizha cake, and dried yak and sheep ribs, and Tibetan yogurt with raisin sprinkled over it and Tsampa and cheese yogurt and milk curd, etc. Meanwhile, you can learn more about Tibetan customs and the architecture of Tibetan houses.
Dine in Bars in Lhasa
The nightlife in Lhasa is anything but dull. You may enjoy the singing and dancing performance in the famous bars like Makye Ame with your Tibetan guide and travel mates. And the Lhasa beer takes the center role on such occasion. Of course, you may also order western dishes like spaghetti, beef steak…and Tibetan momo and other Chinese dishes as well.

Dine in Bars in Lhasa
What to Expect during Your Trekking Tour?
Well, before your trek, the logistic such as food supply will be properly arranged by your Tibetan guide. Since most of the time you will be traveling in the unpopulated regions, either a chef or our Tibetan guide will prepare the food for you. If you want to share with others your specialty, you are more than welcome to join the cooking.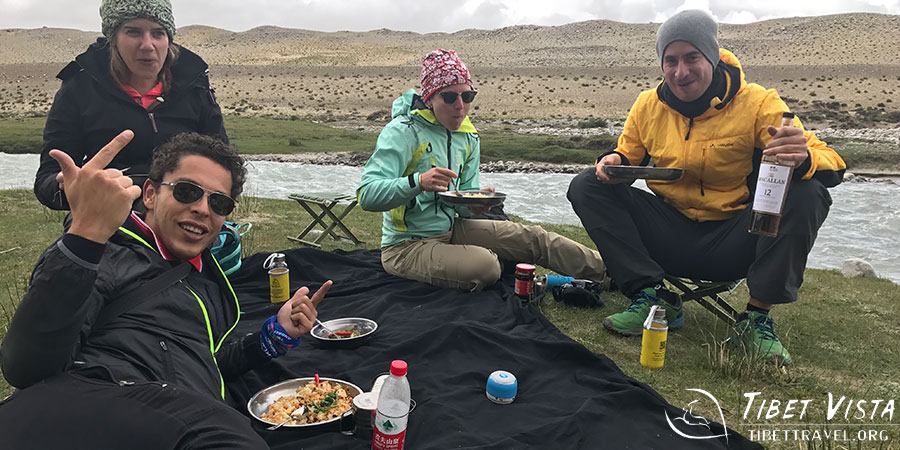 Tibetan food in trekking
You even Have the Chance to Make Tibetan Food Yourself
Deeply impressed by the savory Tibetan food and want to share the same flavor with your family back home? No problem! With proper arrangement, you can acquire new cooking skills with the help of our Tibetan guides. Follow our guide to sample fine ingredient in old farm produce market like Tromsikhang, Lhasa and pick up new Tibetan cooking techniques, sounds fantastic?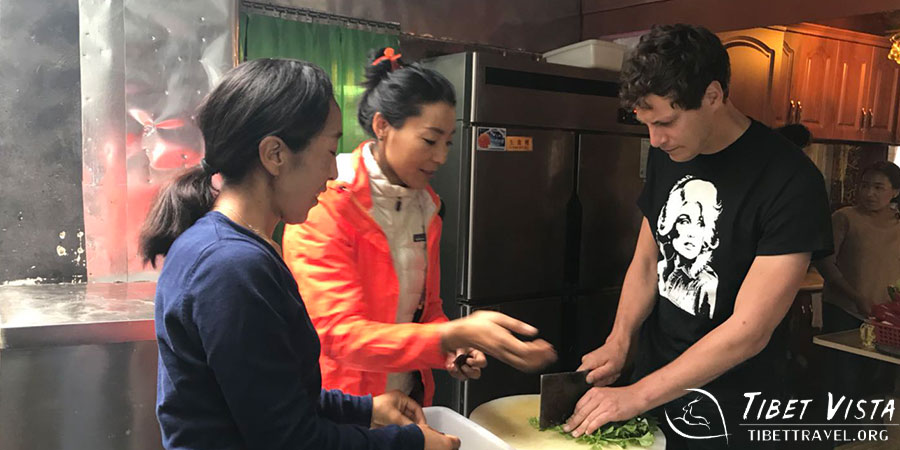 Tibetan Food
Visit the Tsampa Making Mill in Shigatse
Apart from eating Tibetan food and visiting farm produce market in Lhasa, if you join our EBC tour, in summer while you pass Shigatse, you even will have an opportunities to watch the making of Tsampa, Tibetan staple food, in traditional Tsampa mill.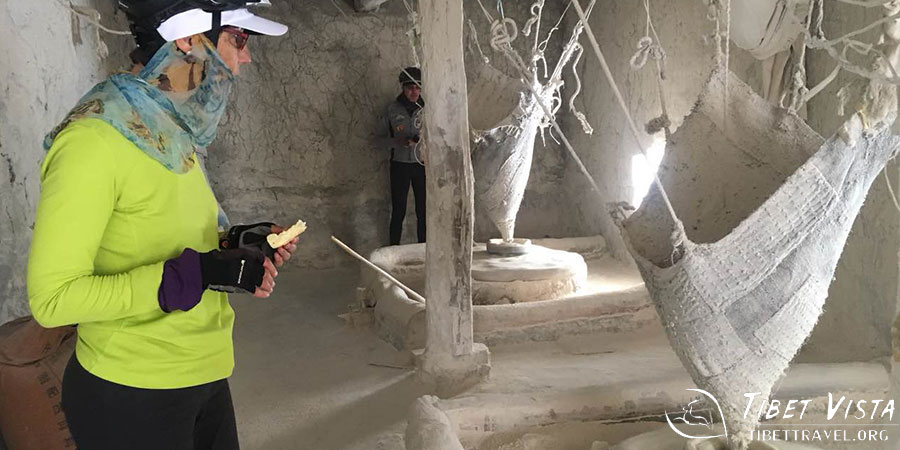 Tsampa Making Mill