Migration of Tibetan antelope to Hoh Xil kicks off
2018-05-24 16:40:00 | From:China Tibet Online
Hoh Xil in Qinghai, a World Natural Heritage Site, welcomed the first group of Tibetan antelope recently when it comes to their migration season in 2018. recently.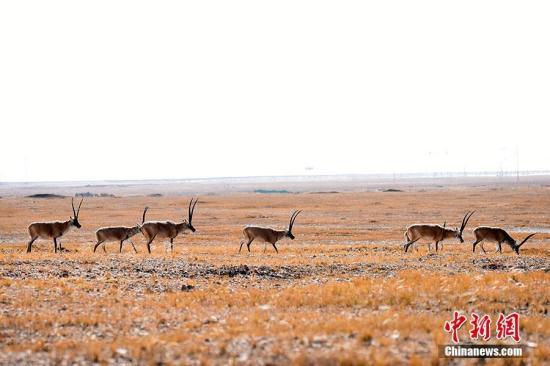 Hordes of Tibetan antelope forage on the vast land of Hoh Xil.
In early May, a migration horde of 50 Tibetan antelope crossed the Qinghai-Tibet Highway one after another and headed to Zhuonai Lake in the hinterland of Hoh Xil to breed. The migration time is basically the same as last year.
The migration of Tibetan antelope is a migration for breeding. Under normal circumstances, after they become pregnant, female Tibetan antelope will put last year's young babies in the care of male Tibetan antelopes to be raised while they carefully care for the fetus in their wombs. About one month before giving birth, the female Tibetan antelopes march through snow and ice, from Sanjiangyuan area in Qinghai Province, Changthang in Tibet, or the Altun Mountain National Reserve in Xinjiang to the area around Sun Lake and Zhuonai Lake – the "giant delivery room" – thousands of kilometers away.
Staff at the Hoh Xil Scenic Area said that female Tibetan antelopes will group together with others they migrate with, and once they reach the breeding area, the largest group can number more than 3,000 antelope. After giving birth and once they regain their strength, the female Tibetan antelopes and their new young will begin to travel thousands of kilometers back to where they came from.
The Hoh Xil Scenic Area has arranged for conveys to escort the Tibetan antelope while they breed and for their return journey. They also conduct detailed monitoring and statistics are taken on data such as number of births and number of returning antelope.
Related News
After a satellite communication facility was put into use Tuesday, China's high plateau Hoh Xil national nature reserve in Qinghai province has ended its era without internet.