Five university students join construction of Lhasa-Nyingchi railway
2018-05-15 09:11:00 | From:China Tibet Online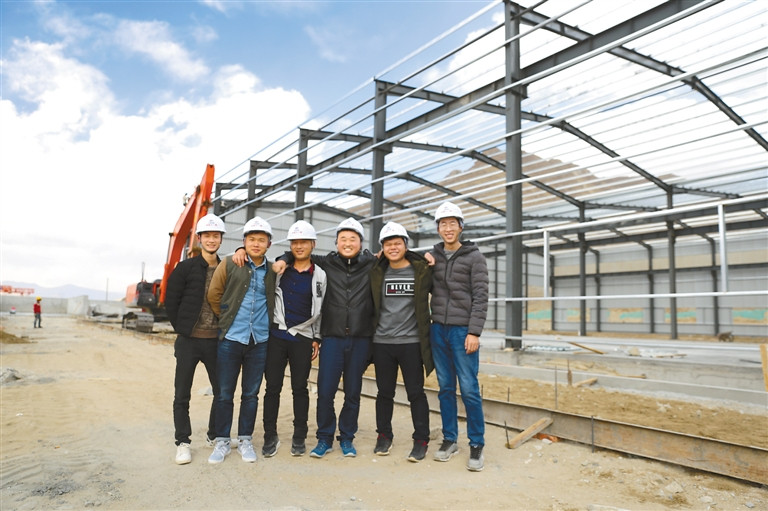 Wei Xiaohui (far left), Hong Zhengyu (second from left), Chen Yinhai (third from left), Zhang Zhengtang (second from right), and Li Fengfu (far right) take a photo with Jiang Yizhou (third from right), the deputy Party secretary of the Lhasa-Nyingchi Railway Quxu Subdivision Company at the construction site of the railway. [Photo by Wang Fei/XZXW.com].
"The vast majority of young people chase after dreams and realize their dreams," General Secretary Xi Jinping said in a speech delivered during the "May Fourth" Youth Day visit to Peking University, wherein he stated the future direction of the development of the youth. And at the construction site of the Lhasa-Nyingchi railway, five university students are chasing their own dreams with the passion of youth.
In mid-December 2017, when people of Guangzhou were still wearing short-sleeves, five young men, Hong Zhengyu, Li Fengwu, Zhang Zhengtang, Wei Xiaohui, and Chen Yinhai, bid farewell to the bustling metropolis, packed their down jackets, and boarded a plane to Lhasa. They were of a similar age and had just graduated from university. They said that despite harsh conditions, the project in Tibet needed them as participants, builders, and witnesses to the construction of the Lhasa-Nyingchi railway, .
Four months before their decision, the Lhasa-Nyingchi Railway Quxu Subdivision Company of the China Railway 11 Bureau Group Bridge Co., Ltd. assigned a group of university students to work on their site for a few months. Afterwards, the company sent them to Guangzhou for studies and training.
"After completion of the training, they could have chosen their own employment location, but these five young men still chose to go back to Tibet. It's extraordinary!" said Jiang Yizhou, deputy Party secretary of of the Lhasa-Nyingchi Railway Quxu Subdivision Company.
At noon on April 13, the wind was blowing at the construction site, scattering sand throughout the air. Hong Zhengyu, the young man working in the company's equipment department, hadn't yet had time for lunch as he hurriedly picked up his mobile phone to video chat with his family. But his maternal grandmother on the other end of the phone would not say anything to him anymore.
"Your grandma can recognize you, but she can't speak," his mother explained anxiously. Hong Zhengyu called to his grandma a few times, but she did not respond. His mother said she did not want to tell him about grandma's sickness, but found that she was getting worse, so finally told her son who was working thousands of kilometers away.
Li Fengwu, who works in the company's laboratory, is from Inner Mongolia. He said that when he was young, he saw on TV when the Qinghai-Tibet railway officially opened. At that time, he had not been aware of how difficult it was to build this railway. When he took train along the Qinghai-Tibet Railway for the first time last year, he witnessed the harsh environment along the way and realized the difficultness of building the railway at that time, thus felt a lot of pride towards the railway workers.
Li Fengwu also said that in the few months since he had come to Lhasa, he had learned a lot of skills through his work. As a member of the Lhasa-Nyingchi railway construction group, he would be dedicated to his responsibilities.
When Zhang Zhengtang from Jiangxi Province first came to Tibet, he was curious about the place that was new to him.
"Over the past few months, I have gradually adapted to being here and to the management of the company. I have also been very fortunate to meet a group of friends who are willing to contribute to the construction of Tibet," Zhang Zhengtang said.
He said that his family is poor and he received state funding for his university education. Today, he chooses to work in remote areas of the country, hoping to give back through his own actions.
Wei Xiaohui, who works in the company's production safety department, said that he came to Tibet after hearing that the project was short of people. However, coming to work here means that he wouldn't be able to take care of his family, and there were a lot of problems at home. Both his grandmothers and his grandfather were ill, but he at most could only say hello to them at times, which makes him feel guilty to the family. However, the young man who had grown from a layman to a construction manager, said he felt heavy responsibilities and was proud to be a builder of the railway.
"I am from Qinghai. Out of the five of us, my hometown is closest to Tibet. They can come here, of course I can." Chen Yinhai, who works in the technical department, is a little shy. During university, Chen Yinhai opened a small store and worked as an intermediary. After joining the company, his work became a little monotonous. "I enjoy my work because I know that every day we are contributing to connecting Tibet with the inland areas."
Editor: Tommy Tan.
Related News
Southwest China's Tibet will strive to make highways reach all townships and administrative villages by 2020 in a bid to boost rural development, said the regional transport authorities.

More than 83,400 km of roads in southwest China's Tibet Autonomous Region are regularly maintained, up from some 59,700 km five years ago.

The main roadbed construction of the 402-kilometer-long Lhasa to Nyingchi section of the Sichuan-Tibet Railway was recently completed.