True Tibet in eyes of Western scholars
2016-03-15 09:06:00 | From:Xinhua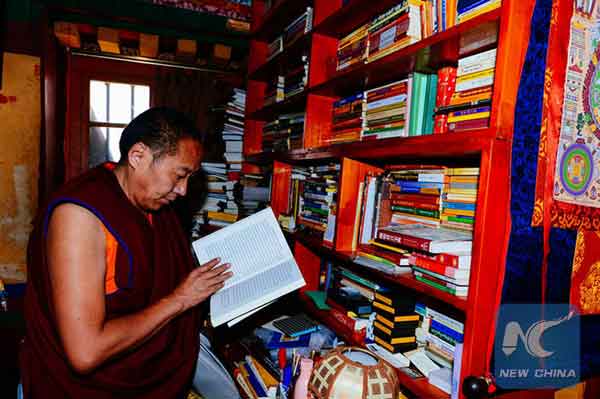 A file photo shows Nyima Tsering reading books in his room at Jokhang Temple in Lhasa, capital of southwest China's Tibet Autonomous Region, Aug. 16, 2015. The 48-year-old monk Nyima Tsering is proficient in Chinese and English. After graduating from the High-level Tibetan Buddhism College in Beijing, Nyima Tsering did the reception work at Jokhang Temple administration committee and introduced temple information to tourists from home and abroad as a tour guide. (Xinhua)
Tibet, a remote land in the midst of the Himalayan Mountains, has long been shrouded in mystery and myth.
The myth brew illusions that have been skillfully peddled for political purposes around the world by the Dalai Lama, the biggest serf owner in old Tibet, who has thus instilled lies into people's concepts, especially Westerners' concepts about Tibet.
Now let's have a look at what a true Tibet is really like in the eyes of foreign scholars and experts who have conducted in-depth studies and extensive field researches about this mysterious land.
Luxembourg scholar Albert Ettinger said that the picture painted by the Dalai Lama about Tibet for the rest of the world is twisted by lies.
"People in Western countries learn about Tibet dominantly from the media. However, large amounts of fiction about Tibet published in those countries have nothing to do with the reality of Tibet...They haven't made any factual research at all," said Ettinger, who had two books published in German -- "Free Tibet? " and "Fight for Tibet" -- in 2014 and 2015 respectively after six years of intensive study.
"For instance, the Dalai Lama said old Tibet was not perfect, it had problems but generally it was a good society," Ettinger said. "I always laugh at that."
Many facts mirror and confirm that old Tibet, a society of serfdom, was a poor ignorant feudal society ridden with problems such as violence, insults, sexual discrimination, he said.
In addition, "the repression of Tibet's language and culture" claimed by Dalai Lama is also a lie, Ettinger said. "It can be seen nowadays that though pupils in Tibet's schools learn Chinese characters, Tibetan is still widely used among them as well."
Echoing Ettinger's opinions, German sinologist and ethnologist Ingo Nentwig said that, when it comes to Tibet, "what you hear about may be false, what you see is true."
The image of the traditional Tibetan society, which is far from reality, is widespread "mainly due to the propaganda of Tibet separatists and gullible, ignorant journalists who are willing to redistribute this nonsense," Nentwig said.
The expert said the truth is the old Tibet was "a society dominated by poverty, misery and violence, ruled by a degenerated system of political tyranny, an institutionalized embodiment of systematic injustice and inequality, in other words, a 'hell on Earth.'"
And for the German scholar, the so-called "cultural genocide" in Tibet is just nonsense.
"It is a fact that the Han ethnic group is the largest among the 56 ethnic groups in China. It's normal for China's modernization to have more or less some Han cultural elements. But the encounter of a variety of cultures actually benefits and inspires cultures of ethnic minorities," Nentwig said.
In 2008, Tibetan Tripitaka, a massive collection of 232 volumes of classic Buddhist scriptures, was published in Tibetan characters by the China Tibetology Press after more than 20 years of collation by experts.
Nentwig cited it as a good example of China's efforts to protect and promote the ancient Tibetan culture.
He noted that prior to the 1950s, Tibet had few books except religious classics, but now there are a variety of Tibetan publications of philosophical classics, Western literature and modern scientific literature.
"Culture is not only religion. Tibetans now have perfect conditions to enjoy a full-blown spiritual life with their own language. This is indeed a great development," Nentwig said.
"For any culture, preservation for its own sake without renewal could only lead to its decay. For Tibetan culture, the encounter and exchange with cultures of all Chinese ethnic groups, including that of Han Chinese, just enables it to survive and prosper in the long term," Nentwig said.
Belgian Tibetologist Andre Lacroix praised Tibet's development over the past decades, saying the region's living standards have improved a lot with "indisputably huge" progress being made.
"It (the Qinghai-Tibet railway launched in 2006) is an extraordinary project and it's really impressive. I think it's a win-win project, with which Tibet further develops and improves its economy, strengthens external exchanges and elevates living standards. The railway line has opened up areas isolated for centuries and helped promote responsible tourism as well."
"I think Tibetan culture is much less threatened than many other minority cultures in the world, because there are still some research institutes working on it," Lacroix said, refuting claims that the government was damaging Tibet's indigenous cultures.
"The Tibetan language is mandatory in primary schools. I believe there is a real willingness by the Chinese government to protect Tibetan culture," said the expert.
(Editor: Ellen Liu)