Happy life of married couple in Ali Prefecture of Tibet
2018-05-21 09:11:00 | From:Xinhua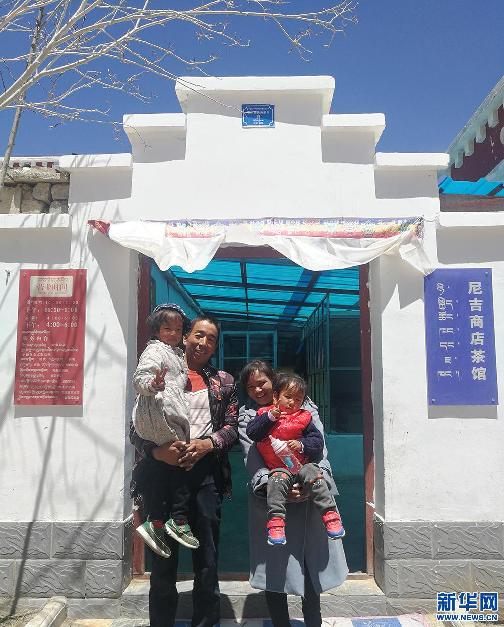 Niji Lamu and her family pose for a photo in front of their house. (Xinhuanet/Zhang Chen)
In 2010, Luo Qiming came to Dianjiao Village where he chanced to meet his future wife Niji Lamu.
Niji Lamu then was running the village's only small commodities store.
They fell in love at first sight and soon got married.
Dianjiao Village is located in Zhaxigang Town of Ga'er County, Ali Prefecture of southwest China's Tibet Autonomous Region.
Coming from the neighboring Qinghai Province, Luo originally planned to move back to his hometown with Niji Lamu after their marriage if they could not make it in Dianjiao.
But everything went on fine for the young couple. They finally gave up the plan as their store enjoyed a good business.
Owing to the policy support of the local government, Niji Lamu was also able to obtain subsidized loans and expanded their store.
Thus their little store became a mini supermarket selling a variety of commodities. Their business thrived and all their loans were paid off.
In addition, they make an extra income of thousands of yuan each year as the Agricultural Bank of Ga'er County employed Niji Lamu to work at its financial service office in Dianjiao Village in 2017.
"Our income has increased a lot while our expenditure has not," said Luo.
To make things better, their children enjoy 15-year free compulsory education.
"Instead of paying anything for my elder daughter's kindergarten education, we've received a lot of subsidies from the school," Luo added.