Zimbabwe to grant arrival visa for Chinese tourists
2018-06-08 10:17:11 | From:GaoJunya
  Zimbabwean Home Affairs Minister Obert Mpofu announces that the Zimbabwean government will grant visa on arrival for Chinese tourists starting from July 1st this year on Thursday, June 7, 2018. [Photo: China Plus/Gao Junya]
  The Zimbabwean government has announced plans to grant visa on arrival for Chinese tourists.
  Zimbabwean Home Affairs Minister Obert Mpofu says the new visa policy will begin on July 1st.
  "I am happy to announce that the two governments have agreed that as from the 1st of July 2018, Chinese nationals whether travelling as a group or individually intending to visit the country will obtain visas at ports of entry. I am confident, on behalf of the government of Zimbabwe, that the platform that has been created will benefit citizens of both countries."
  China's ambassador to Zimbabwe says the easing of the visa policies will help attract more Chinese tourists and investors.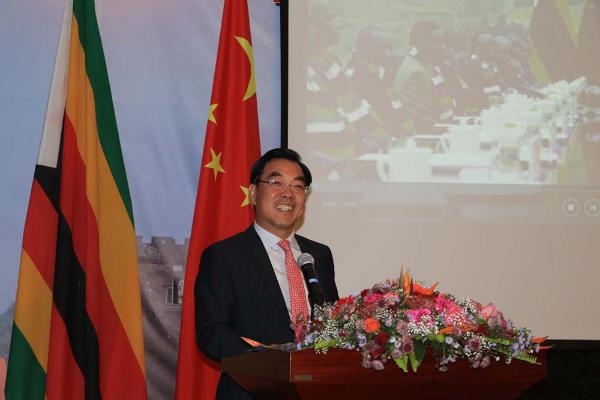 Chinese ambassador to Zimbabwe Huang Ping points out the growing need to protect the interests of Chinese tourists with the implementation of the softened visa policy on Thursday, June 7, 2018. [Photo: China Plus/Gao Junya]
  However, Huang Ping also notes there will be a growing need to protect the interests of Chinese tourists and companies with the implementation of the softened policy.
  "As more Chinese come, there will be a growing demand for better service for and management of them in terms of the visa, working and residence permits and other security related issues arising therefrom. As such, I, on behalf of the Chinese embassy and the Chinese government, sincerely hope that the respective ministries and departments will continue to provide good care and strong support to the Chinese community for the protection of their safety and security as well as other legitimate interests in Zimbabwe."
  Zimbabwean authorities are hoping to attract at least 100-thousand Chinese tourists in the next three years.
  However, stats show that Chinese tourist arrivals to Zimbabwehave have plunged so far this year to just 27-hundred from the over 10-thousand recorded during the same period last year.
  It's believed concerns around Zimbabwe's political situation following the ouster of long-time leader Robert Mugabe late last year has prompted many would-be Chinese tourists to Zimbabwe to stay away.