Iran says int'l consensus over nuclear deal isolates U.S.
2018-05-28 00:16:37 | From:
  International consensus to save the Iran nuclear deal from the U.S. damage has further isolated Washington, Iran's Foreign Minister Mohammad Javad Zarif said in Tehran on Sunday.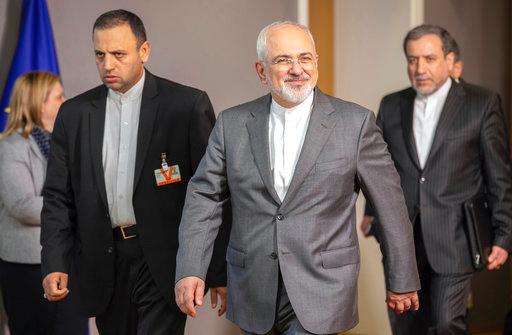 Iranian Foreign Minister Javad Zarif, center, leaves after a meeting with European Union foreign policy chief Federica Mogherini at the Europa building in Brussels on Tuesday, May 15, 2018. [Photo: AP]
  International community has voiced its support for Iran's nuclear deal, except for Israel and a few Arab states which backed U.S. withdrawal from the deal, also known as the Joint Comprehensive Plan of Action (JCPOA), Zarif said.
  "I believe that there is still an international consensus in support of it (the JCPOA) and (U.S. President) Trump has failed to change the conditions," Zarif was quoted as saying by state TV.
  He stressed that "we trust our nation and this confidence gives us power to meet our country's benefits in such difficult negotiations."
  Referring to the ongoing negotiations between Iran and five other parties over the nuclear deal, he said that if Iran's interests are met and necessary guarantees are given over Iran's interests and benefits from the JCPOA, the Islamic republic will remain committed to it.
  Zarif said that the U.S. new strategies vis-a-vis Iran will lead to greater isolation of Washington among the international community.
  On Friday, Iran's Deputy Foreign Minister Abbas Araqchi met his counterparts from Europe, Russia and China to discuss the future of the deal.
Related News
The United Nations Secretary-General Antonio Guterres on Wednesday threw his weight behind the European Union (EU) in salvaging the landmark Iran nuclear deal.

U.S. Secretary of State Mike Pompeo said on Sunday that the United States had failed to reach an agreement with the European nations on the historic Iran nuclear deal.