Tibetan-mastiff themed oin painting exhibition opens in Beijing
2018-07-20 10:52:00 | From:China Tibet Online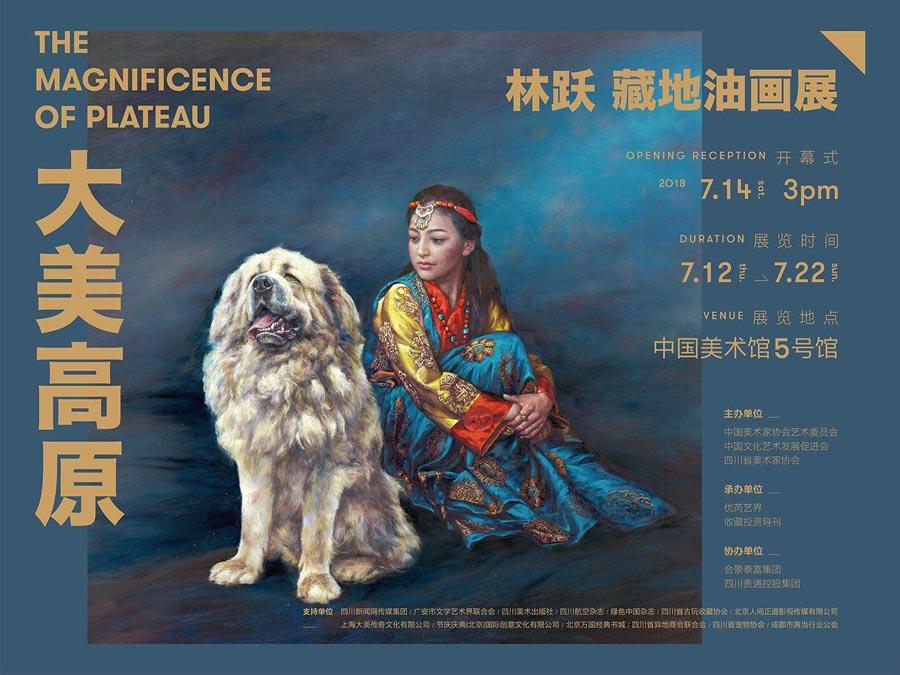 Art exhibition poster. Photo courtesy of the Yourui Art World.
Lin Yue, the first person to paint a Tibetan mastiff in China, has been interested in the Qinghai-Tibet plateau for over 30 years. He has been obsessed with the plateau and Tibetan mastiffs all his life, and on July 14, "'The Great and Beautiful Plateau' Lin Yue Tibetan Oil Painting Exhibition" opened at the National Art Museum of China in Beijing. Through the exhibition, visitors can experience the realization of Lin Yue's artistic ideals.
In 1986, Lin Yue left Sichuan for the first time, crossing the 4,000-meter-high Garing Grassland to reach the plateau. When the plateau appeared in front of Lin Yue with its mysterious and exuberant beauty, he was deeply stunned. Since then, he has released all his passion to this vibrant land, and began to use the brush to record the most authentic version of the plateau. Later, Lin Yue would often travel to the plateau to feed his artistic creativity. Here, he met the nomad Xia Ke and his family, and unexpectedly came into contact with the spirit of the snow land that would alter the course of the latter part of Lin Yue's life: the Tibetan mastiff. The Tibetan mastiff became an indispensable protagonist in Lin Yue's paintings, and as the joined fate between Lin Yue and the Tibetan mastiff became stronger and more steadfast, he achieved his artistic ideal. His paintings are gradually becoming more and more renowned.
In 2010, the market rose, and several heads of cultural enterprises approached Lin Yue. They were willing to spend tens of millions of yuan to contract his work for the next few years, requiring that Lin Yue draw according to their ideas. Faced with such great temptation, Lin Yue made up his mind to spend his lifetime painting the plateau, and his adherence to the plateau and the Tibetan mastiff has brought his artistic career to new heights.
In 2006, Lin Yue's first "Tibetan mastiff-themed exhibition" was successfully launched in Chengdu, capital of Sichuan. In 2013, his Tibetan-mastiff oil painting exhibition titled "Revering Life: I Use My Life to Protect You" was held at the Research Museum of the Repin Academy of Fine Arts in Russia. In 2017, Lin Yue's "Snowy Dress" was conceived, and once it emerged, it caused a sensation in art circles. On July 14, 2018, "'The Great and Beautiful Plateau' Lin Yue Tibetan Oil Painting Exhibition" was unveiled at the National Art Museum of China, calmly recounting the pure plateau.
It is reported that the "Western Painting Exhibition", which shows the development of western regions over the last 40 years of Reform and Opening up, will also be held in Beijing from July 13. A total of 80 paintings by outstanding artists from all over the western provinces have been selected, allowing visitors to see a new era of western painting.