Tibetan Language Law Class students return home for internships
2018-07-18 10:19:00 | From:China Tibet Online
On July 9,a training meeting was held for Tibetan Language Law Class students of Minzu University of China for their Summer Internship in Tibetan-inhabited aresa. Over the next month or so, 23 students from the 2016 and 2017 Tibetan language law classes at Minzu University of China will be assigned to different courts of law in Tibet, Sichuan, Qinghai, and Gansu provinces to gain work experience in field internships.
On the same day, students from the Tibetan-Chinese and Yi-Chinese bilingual law classes who will be sent to national district courts for internships attended their pre-departure meeting at Southwest University for Nationalities. 40 students from Southwest University for Nationalities Tibetan-Chinese and Yi-Chinese bilingual law classes will also be assigned to courts in Tibet and Tibetan-inhabited areas in Sichuan, Qinghai, and Gansu provinces, as well as to courts in the Liangshan Yi Autonomous Prefecture in Sichuan Province.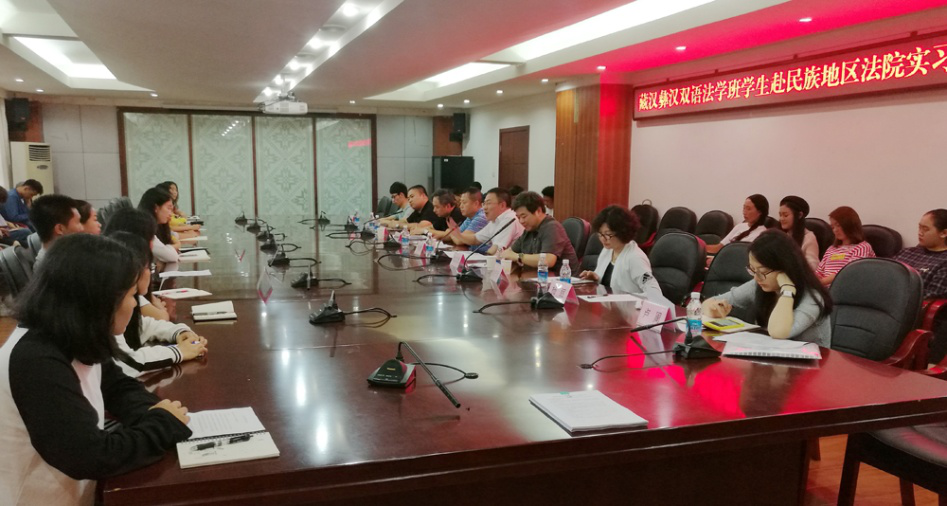 The pre-departure meeting for students at Southwest University for Nationalities. Photo provided by Southwest University for Nationalities.
The internship program is jointly carried out by the Supreme People's Court and the National Ethnic Affairs Commission. It aims to train bilingual reserve judges to develop the extended function of the national bilingual judge training base, strengthen exchanges between the courts and nationalities universities, and open channels for students of nationalities universities to participate in judicial practice.
At the meetings, responsible person from the National Ethnic Affairs Commission said that bilingual cadres, particularly bilingual legal experts, are urgently needed in state policies and judicial proceedings in ethnic regions, especially in remote areas. The students who attended the meetings are law students who are also proficient in ethnic minority languages. These are the kinds of talents that are currently lacking in ethnic areas.
Due to factors of geographical location, total population, and level of economic development, the number of cases that are heard and the number of court staff at basic-level courts in Tibetan-inhabited areas are relatively small in comparison with courts in the central and eastern regions of China. It is extremely necessary to add new life forces to the courts and to have legal experts who understand both the law and ethnic languages, who will be able to settle down and are willing to serve in Tibetan-inhabited areas. It is hoped that students will be able to combine theoretical knowledge with judicial practice to improve the ability to communicate with local residents and express legal issues in ethnic language.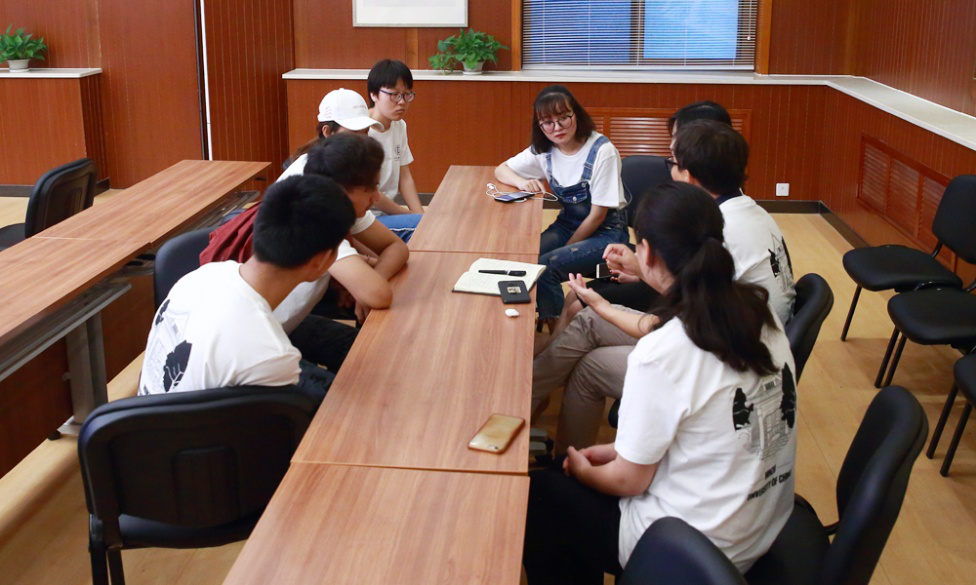 After the meeting, team leaders lead teachers and students in discussions. Photo: Yang Yueyun.
Phuntsok Wangmo, a representative of the Minzu University of China Tibetan Language Law Class student interns said that this internship is both an opportunity and a challenge, saying that the students will maintain their enthusiasm for learning and meet the internship with good attitudes. They will work hard in their respective positions and study hard, use their efforts to contribute to the legal construction of their hometowns.
In September 2014, Minzu University of China established the law studies learning direction (Tibetan Language Class), which has recruited three classes to date. The Tibetan Language Class highlights the characteristics and advantages of the Law School of the university and is committed to training "bilingual" legal experts. The first class of students has graduated this year.