More attention to "pyramid" food chain ecosystem: China-EU biodiversity official
2018-07-30 09:47:00 | From:China Tibet Online
John MacKinnon, a China-EU biodiversity official, said at the "Journey with Leopards" International Research and Conservation Forum held in Yushu, northwest China's Qinghai province on July 18, said that while focusing on the snow leopard species, experts should also pay more attention to the "pyramid" food chain ecosystem associated with the snow leopard.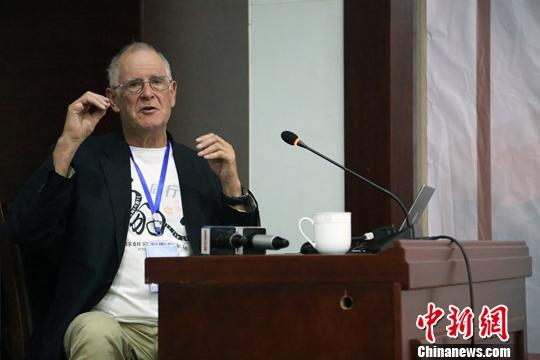 John MacKinnon elaborates on a point during the forum.
According to Mr. MacKinnon, large carnivores do not require much to survive in terms of living environment. The snow leopard, as the top predator in the food chain, represents the diversity of the biological structure and system and therefore, is essential to maintain the health of the alpine system and biodiversity.
"The snow leopard's food should be monitored. When there is enough food, the snow leopard will exhibit different social structures and behaviors," Mr. MacKinnon said. He also said that the Qinghai-Tibet Plateau is a paradise for wildlife, and (once) overgrazing and degradation of the grasslands have become the greatest threats to wildlife and water sources.
According to relevant data, as a rare species with a small population, there are only 3,000 to 7,000 snow leopards in the world. More than 1,000 leopards reside in the Sanjiangyuan area in China.
"Right now we are over-dependent on modern technology, such as infrared cameras. But infrared cameras can only shoot fixed places, while humans are able to monitor a wider area, so we should return to more traditional (monitoring) methods," MacKinnon said. He added that the wild animals on the plateau are linked together in a "pyramid" food chain, but that experts currently only focus on the top, and ignore animals such as rock sheep and highland rabbits. In fact, we should pay attention to the whole system.
It is understood that potential threats to the snow leopard in the Sanjiangyuan area include conflicts between humans and animals, a shortage of prey, poaching, human disturbance caused while collecting Cordyceps, the spread of disease caused by stray dogs, and the fragmentation of habitats caused by climate change.
Related News
Chinese researchers said Thursday that the habitats of rare snow leopards have been expanding in recent years, as the big cat has been sighted in more areas of China.

Cameras have captured more than 50,000 pictures of snow leopards since 2011 in Sanjiangyuan.

The discovery of the Asiatic jackal is a new record for China, adding a new member to the Chinese canine family.