EU set to impose rebalancing duties on U.S. products in July
2018-06-06 19:46:14 | From:Xinhua
  The European Union (EU) should start applying the rebalancing duties on U.S. products in July in response to U.S. tariffs imposed on EU steel and aluminium, the European Commission said on Wednesday.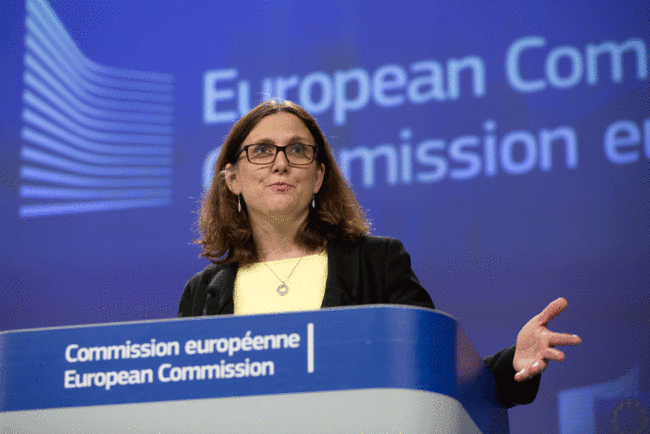 European Commissioner for Trade Cecilia Malmstrom speaks during a media conference, following the United States announcement to impose tariffs on steel and aluminum, at EU headquarters in Brussels, Friday, June 1, 2018. [File Photo: AP/Virginia Mayo]
  "The College of Commissioners endorsed today the decision to impose additional duties on the full list of U.S. products notified to the World Trade Organization (WTO), as part of the EU's response to the U.S. tariffs on steel and aluminium products," the Commission said in a statement.
  Following this decision, the Commission expects to "conclude the relevant procedure in coordination with the member states before the end of June so that the new duties start applying in July".
  "This is a measured and proportionate response to the unilateral and illegal decision taken by the United States to impose tariffs on European steel and aluminium exports. What's more, the EU's reaction is fully in line with international trade law. We regret that the United States left us with no other option than to safeguard EU interests," EU trade commissioner Cecilia Malmstrom said.