SCO membership significant to Pakistan's development: experts
2018-06-04 12:24:07 | From: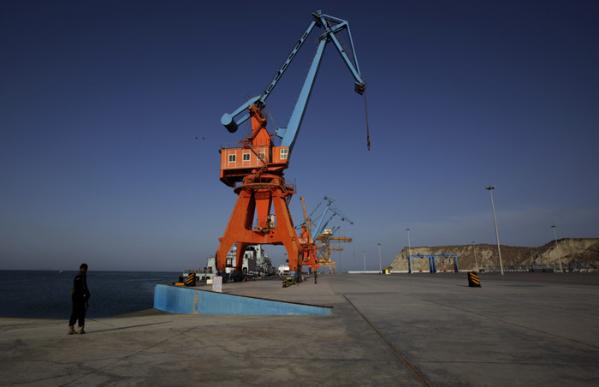 Pakistan Navy soldiers patrol in Gwadar port, about 700 kilometers (435 miles) west of Karachi, Pakistan, Monday, April 11, 2016. Gwadar Port is a deep-sea port developed jointly by the Pakistan and China at a cost of USD $248 million. Gwadar is the key to the trade portion of the China Pakistan Economic Corridor. [Photo: AP/Anjum Naveed]
  It has been one year since Pakistan became a full member country of the Shanghai Cooperation Organization (SCO). A number of leading experts and analysts of international affairs in Pakistan say the full membership upgrade has had a significant impact on Pakistan's diplomatic affairs and overall development.
  Pakistan first became an observer of the SCO in 2005. At the organization's last annual summit, which took place in the Kazakh capital Astana in June 2017, both Pakistan and India were accepted as full members.
  Khalid Taimur Akram is the executive director of Islamabad-based think tank the Center for Global and Strategic Studies. He said that the change in membership status for Pakistan had sent out an important diplomatic message.
  "The member upgrade from observer to full member is a message to the world that attempts to isolate Pakistan diplomatically will not be fruitful, and Pakistan is siding with the right powers at this critical junction and is on the right side of the history," explained Akram. Akram said because India is now also a full member of the SCO, Pakistan will have many opportunities to work on its relations with India through dialogue.
  That sentiment is echoed by Dr. Muhammad Munir, a research fellow with the Islamabad Policy Research Institute."At the moment, the relationship between the two countries is not very good. But with the passage of time, there will be a lot of opportunities, because every six months, sometimes there will be head-of-state summits, and sometimes there will be head-of-government summits, so there will be a lot of opportunities for the two countries to meet and discuss their issues," said Munir.
  Cooperation in counter-terrorism and counter-extremism has remained a main focus of the SCO. In late May, Pakistan successfully hosted a meeting of the Regional Anti-Terrorist Structure, an organ of the SCO that aims to facilitate cooperation against the three evils of terrorism, separatism and extremism. The three-day meeting marked the first SCO-related event held in Pakistan since it obtained a full-member status.
  Munir pointed out that fighting terrorism is a shared responsibility of countries and that being a full member of the SCO means Pakistan, as a successful example in the area, can learn from other countries and also share its experience.
  "Pakistan has already developed all these mechanisms within the country. We have National Action Plan, we have NACTA - National Counter Terrorism Authority. With the becoming of a full member, Pakistan can also enhance its capability, because there are many mechanisms within the SCO that can help and influence Pakistan's capacity building of our security forces,"said Munir.
  Beyond security, promoting common economic development is another priority for the SCO, many of whose member or observer states, as well as dialogue partners, are also participating in the China-proposed Belt and Road Initiative.
  Akram said a core belief in greater connectivity and multilateral cooperation would allow the SCO to help further promote the Belt and Road, as well as Pakistan's economic development."The SCO believes in economic globalization and regional integration. That has stimulated a long potential for economic activity. We all know that the Belt and Road Initiative is a Chinese proposal, with the aim to promote peaceful cooperation and common development around the world. This cooperation is public, it is transparent, and it is open. And it is bringing positive energy to world peace and development. Pakistan is moving forward with its 'trade, not aid' policy and has been pushing for greater connectivity," said Akram.
  Akram also highlighted the China Pakistan Economic Corridor (CPEC), which is a flagship program under the Belt and Road Initiative. Established in 2013, the CPEC consists of a number of massive infrastructure projects across Pakistan to better connect countries in the region.