A Tibetan village's new life after relocation
2018-08-07 09:59:00 | From:China Tibet Online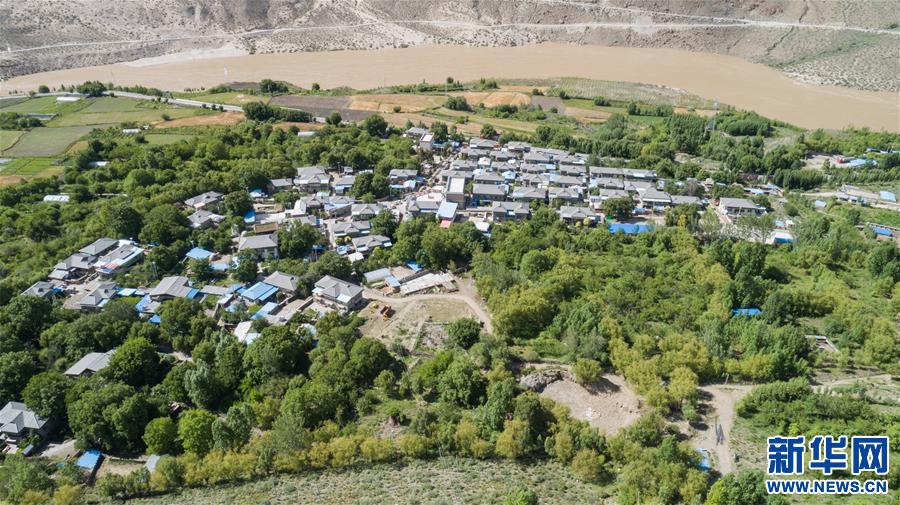 Zhuo Village, Dongga Town in Lang County of Nyingchi Prefecture, Tibet photoed by unmanned aerial vehicle on July 26.
Zhuo Village, Dongga Town in Lang County of Nyingchi Prefecture, Tibet is a small village on the shores of the Yarlung Zangbo River. When one walks inside the tree-lined village, there are rows of neat and new Tibetan-style homes. All 57 households in the village have TV, computer, Wifi, refrigerator, flushing toilet, solar shower, and other facilities. The local residents also use a disinfectant cupboard for their kitchen dishes. Besides, the young people love to shop online.
What has made this village so "trendy?" In 2003, when Zhuo Village was still a backward village at the foot of a mountain, with inconvenient transportation and closed-off from information, the village's former Party Secretary, Bazhu, a well-traveled man, communicated with the county leaders to encourage villagers to move closer to the highway.
With transportation improved, people's minds expanded and there were more ways to develop the village. Lang County has always planted chili peppers, but never to a large scale. Party Secretary Bazhu said, since we have moved to our new homes, we gave up the traditional model of growing Tibetan barley and wheat, and make the highly profitable crops of chili peppers and "courtyard economy" the primary industry. Currently, the village has planted 224 mu(40 acres) of chili peppers, 150 mu(25 acres) of apples, 100 mu (16 acres)of Tibetan peaches, and 900 mu (148 acres) of walnuts, with an average income growth of 35 thousand yuan/family annually.
Ideas of sustainable development have grown here. Digging for cordyceps makes up 50% of the villagers' income. To prevent any ecological damage from large-scale cordyceps harvesting, the village has created a temporary Party leadership office at the digging site to provide services, strengthen management, and to ask the villagers to back-fill any turf and conduct garbage clean-up.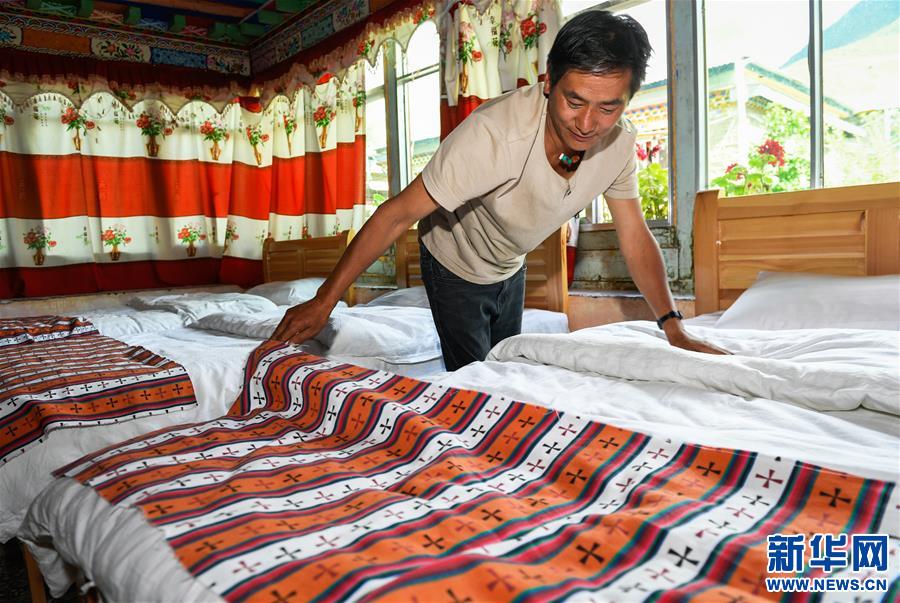 Villager Phuntsok is cleaning up guest rooms.
Quite a few families have opened home inns as another way to generate income. Zhuo Village has 12 families who join in farm tourism, with another 10 families waiting for approval to do the same. The home inns have changed from only providing lodging to a combination of lodging, dining, and fruit-picking.
"Before we moved, no one wanted to work outside the village and always depended on charity. Nowadays, every family has a truck. More than 70% of the young people are working in Lhasa, Chamdo, Nagqu, and other places, some in transportation, some drive excavators, and some do tourist transportation. There's more ways of growing rich than ever."