A 60-year-old man drives himself to Tibet
2018-10-31 09:49:00 | From:China Tibet Online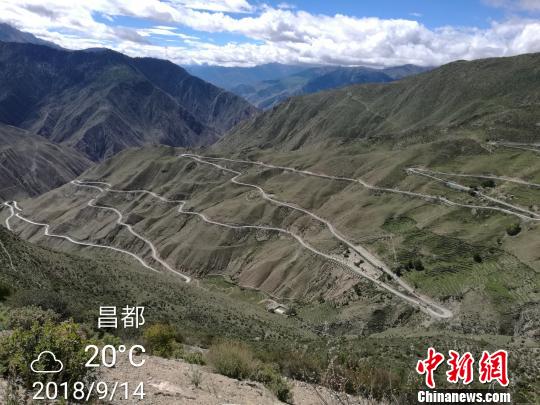 Photos taken by Yin Qiaoming along his journey.
In his 60s, he himself drives a car crossing Highway 318 into Tibet.
He is Yin Qiaoming from Liuzhou City, Guangxi Zhuang Autonomous Region in south China, who retired last year after working 24 years as a driver. When he told his children this plan to drive to Tibet, his daughter said, "Just go. Don't have any regret." His son suggested that he report his whereabouts at any time."
Yin Qiaoming maintained his car well, checked over the directions, prepared food, medicine, and oxygen tank, and with encouragement and support from his family, on September 9, he set out from his hometown in Rong'an County.
Driving out from Guangxi, the route took him through Guizhou and into Sichuan on the 318 Sichuan-Tibet Highway. The scenery along this route was beautiful and exciting for Yin Qiaoming, from the Luding Bridge over the Dadu River, Paoma Mountain in Kangding, yaks crossing the grasslands, snow-capped mountain peaks, and untouched forests in Bomi, Tibet.
"So beautiful!" "So pretty!" When he saw beautiful scenery passing through the scenic areas, Yin Qiaoming would stop his car and walk around, taking videos and photos to share with his families and friends.
But along with the beauty came altitude sickness, unpredictable weather and obstacles on the road. "After I crossed Luding Bridge and reached an altitude of more than 3,300 meters, I got altitude sickness," Yin Qiaoming remembered. "I felt dizzy and light-headed and my body ached." After breathing from the oxygen tank and visiting a doctor, he gradually recovered.
After overcoming this bout of altitude sickness, Yin Qiaoming didn't feel unwell any more. While on the road in Lithang County in Garze Tibetan Autonomous Prefecture in Sichuan, as he was concentrating on driving, suddenly he heard the sound of pitter-pattering on the roof of his car, and then a bang, which made him panicked. He stepped on the accelerator and sped up.
"It was a rockslide. Fortunately there were no big rocks," Yin Qiaoming says as he talks about the dangers. On the Nyingchi section entering Bomi, Tibet, there were rocks along the road that look like it would scratch against the top of the car, and Yin Qiaoming unconsciously ducked his head as he passed by.
After arriving at Mila Mountain, it started to snow, and the whole world became white. "The snow blocked traffic, and a lot of cars stopped. I was really excited; as a southerner, I had never seen such snow!"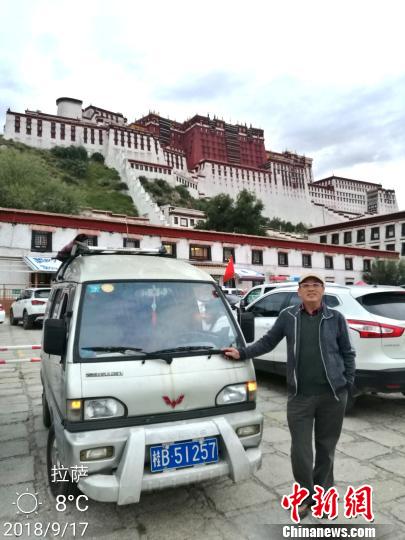 Yin Qiaoming drives to the Potala Palace.