China rejects politically biased human rights standards, claims: FM
2018-11-08 00:10:39 | From:GlobalTimes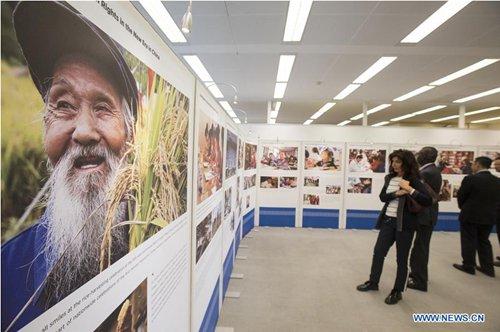 People visit "The Development of China's Human Rights in the New Era" exhibition at the UN Geneva headquarters, in Geneva, Switzerland, on Tuesday. The exhibition, jointly sponsored by the Permanent Mission of China to UN in Geneva and the State Council Information Office of China, features more than 100 pictures and 10 micro-videos on progress in China's human rights situation. Photo: Xinhua
  Only the Chinese people have a say on China's human rights conditions, and no other country can monopolize the standards of democracy and human rights or impose their own standards on others, China's foreign ministry said on Wednesday.
  Ministry of Foreign Affairsspokesperson Hua Chunying made the remarks at a routine press conference on Wednesday, after some Western countries politicized the human rights issue and made groundless accusations against China's ethnic, religious and judicial issues at the UN Human Right Council's Universal Periodic Review process of all UN Member States in Geneva on Monday.
  During the session, representatives of the US, Canada, Britain, France, Germany, Switzerland, Australia and other countries called for an end to the "detention" of Uyghur people in Northwest China'sXinjiangUyghur Autonomous Region, and urged respect for freedom of religion, expression and association, the New York Times reported.
  "I want to stress that there is no best, only better on the human rights issue. China will listen to and embrace sincere and constructive suggestions, but firmly oppose and reject politically biased, vicious or unwarranted accusations," Hua said.
  The Chinese delegation, led by Le Yucheng, China's vice-minister of Foreign Affairs, with delegates from Xinjiang, Tibet Autonomous Region and Hong Kong and Macao, presented facts and evidence at a session in the UN's Geneva headquarters on Monday to refute these groundless accusations.
  China answered more than 300 questions from 150 countries and regions in an open, honest and cooperative manner.
  China also listed 30 new measures at the meeting to protect human rights, which include inviting foreign politicians to visit ethnic minority regions, including Tibet, and pass an individual information protection law and conduct dialogues and negotiations with Western countries on human rights, the foreign ministry said on its website on Wednesday.
  More than 120 countries, including Russia, South Africa and Ethiopia, acknowledged the human rights view with Chinese characteristics and supported China's human rights report.
  Those countries said that China's experience in safeguarding human rights and development rights and alleviating poverty is worth learning about, Hua said.
  Meanwhile, an exhibit called "The Development of China's Human Rights in the New Era" was launched on Monday at the UN's Geneva headquarters, the Xinhua News Agency reported on Tuesday.
  Global Times