Gaokao exams to determine fate of 9.75m examinees
2018-06-07 01:07:36 | From:GlobalTimes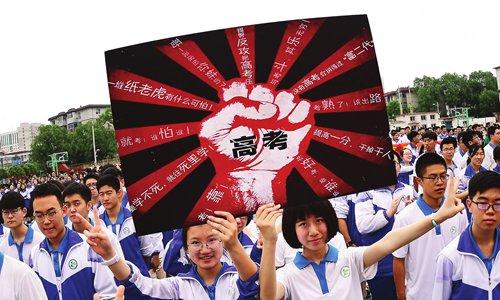 A high school based in Shenyang, capital of Northeast China's Liaoning Province, held a farewell ceremony on Wednesday for third year high school students, who are among the 9.75 million Chinese students to take part in the national college entrance exams on Thursday and Friday. Photo: VCG
  Around 9.75 million students in China, the highest number in eight years, will take
  gaokao, the national college entrance exams on Thursday.
  Experts said that after being restored in 1977,
  gaokaohelped pick talent for the country, which promoted China's fast development in the past four decades, and current
  gaokaoreforms would further help develop talent for the country in the new era.
  The
  gaokaogenerally lasts two days, and is probably the most important moment for most Chinese high school students, as their scores largely decide whether they can go to college and which college they can attend.
  The exam system was suspended during theCultural Revolution(1966-76).
  "
  Gaokaohas been almost the only way for candidates, especially those from rural and mountainous areas, to change their lives," Long Xiaoping, a retired public servant in Central China's Hunan Province, who took the
  gaokaoin 1977, told the Global Times on Wednesday.
  "I was 30 years old when I took the exams and had to prepare for the exams after work. My only dream at that time was to go to a college, and the exam was my only chance," Long said, adding that he was finally admitted by a teachers' school in Hunan. He said his life, like many of his classmates, has changed.
  Aside from Long and his classmates, 270,000 out of 5.7 million candidates were enrolled in universities and academies in 1977. In 2017, more than 728,500 students from Central China's Henan Province were enrolled in college, according to data from the Guangming Daily newspaper.
  By 2020, half of all the candidates will make it to college.
  The number of examinees has also increased from 5.7 million in 1977 to a peak of 10.5 million in 2008. About 9.75 million students will take this year's exam, according to data from a news site yicai.com.
  "More students were admitted into high schools in recent years with more of them taking the
  gaokao. China's elementary education has quickly developed in recent years, which has contributed to social development," Xiong Bingqi, deputy director of the 21st Century Education Research Institute, told the Global Times on Wednesday.
  From 1977 to 2016, 120 million Chinese were enrolled in universities. They became an important driving force behind decades of China's robust economic growth, the Xinhua News Agency reported.
  Xiong said that China's elementary and higher education have covered basic needs, but face an imbalance in education resources and a lack of excellent education resources.
  Reforming
  gaokao
  Reforms to the
  gaokaohave begun. In April 2017, theMinistry of Educationurged top universities to do more to enroll students from rural or poor backgrounds. Universities were asked to enroll 10 percent more disadvantaged students in 2017. Strict supervision and greater transparency will ensure the suitability and eligibility of candidates, Xinhua reported.
  Xiong said that
  gaokao's function has evolved in recent years - from the only chance for students to enroll in college to one of several criteria. He added that the
  gaokaoshould turn our education from exam-oriented to quality-oriented.
  "We need to reflect on what kind of talent China wants to educate… we need to advance the reform for the benefit of the country," Xiong said.
  Relevant departments in China have taken out much of the exam's unreasonable aspects, such as the "extra point column," which emphasized students' comprehensive performance evaluation. Steps like this continue to promote the
  gaokao's fairness, CGTN reported.
  In 2003, the Ministry of Education authorized 22 Chinese colleges to conduct independent exams for admission based on their own criteria, CGTN reported. These programs have allowed the schools to set their admission standards, including the option for lower test scores. In 2018, the number of authorized colleges increased to 95, Xinhua reported.