High and dry no longer apply
2018-05-30 16:55:00 | From:China Daily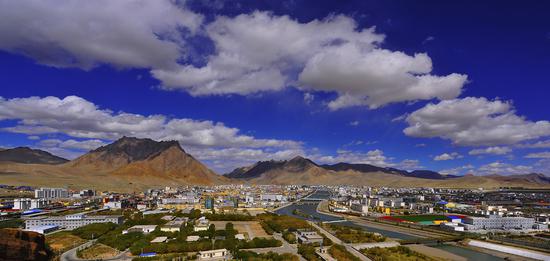 A panoramic view of Shiquanhe town, the administrative center of Gar county and Ngari prefecture, Tibet autonomous region. (Photo Provided to China Daily)
Reforestation efforts making a real difference on the cold, barren Tibetan plateau
Across China, ecological conservation is increasingly becoming a high priority, even high upon the Tibetan Plateau.
When traveling along Highway G219 from Lhasa, capital of the Tibet autonomous region, to Gar county in Ngari prefecture, there is little to interrupt the beautiful monotony of the rolling mountain scenery.
But as travelers approach the town of Shiquanhe, two lines of "white centurions" standing along the highway come into sight. On closer inspection, the centurions turn out to be a species of willow tree - more commonly found in the Loess Plateau in northwestern China - and their presence is a key weapon in fighting wind erosion and desertification.
The white clothes the trees "wear" are actually plastic covers installed to help the willows make it through the chilly and windy winters, said Gao Baojun, Gar's Party secretary.
The willows, along with tens of thousands of other trees of varying species, were introduced from distant regions of the country to help green the county's once-barren land.
For residents, the sight of green trees used to be a rarity due to the area's hostile natural environment featuring long, arid winters, Gao said.
Over the past two years, nearly 300,000 trees have been planted along city streets, in parks and public spaces, as well as beside highways in Gar, western Tibet, in a massive reforestation campaign to protect the fragile natural environment.
The newly arrived trees include poplars, willows and Chinese scholar trees that come from places with climates comparable to Ngari.
Related News
Chinese President Xi Jinping said the country will fight a good battle against pollution and push ecological civilization to a new level during a tone-setting meeting on environmental protection ending Saturday.

Investment in ecological restoration and protection along a 96-kilometer stretch of the Lhasa-Nyingchi highway has hit 440 million yuan ($67.2 million), almost nine times the originally planned amount, an official said.