Tibetan opera performed during Shoton Festival
2018-08-17 09:35:00 | From:China Tibet Online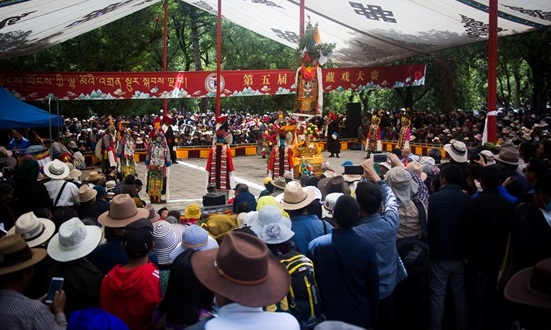 Tibetan opera performances began on August 12, the second day of the traditional Shoton Festival in Lhasa.
The Kongou Tibetan Opera Troupe from Namling County, Shigatse performed the opera Teba Danba inside the Norbulingka Summer Palace.
11 Tibetan opera troupes from Lhasa, Shigatse, Lhoka, and Chamdo perform during this year's Shoton Festival, bringing together nearly 270 Tibetan folk opera artists and more than 70 actors are participating in the 2018 Shoton Festival Tibetan Opera Competition and Performances.
When the competition officially began at 11:00 in the morning, the performance area was already crowded with local residents and tourists who had come to watch the opera.
Tibetan opera is more than 600 years old and is known as the "living fossil" of Tibetan culture. Its subject matters are based on folk stories, historical legends, and Buddhist scriptures, etc.
Editor: Tommy Tan.