Tourism help raise income in Gangsha Village
2018-09-30 11:08:00 | From:China Tibet Online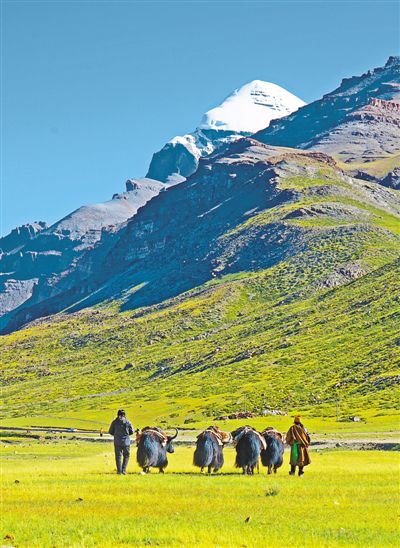 [Photo/People's Daily]
The world famous Mt. Kangrinboqe attracts a large number of domestic and foreign tourists every year. Living at the foot of the snow-capped mountain, people in Gangsha Village of Purang County in southwest China's Tibet has been providing transportation services to visitors with their yaks since 1981, and benefitted a lot from that.
In 2010, Purang County approved the establishment of Mt. Kangrinboqe Transport Tourism Service Center.
Today, the yak transport team has set up mature service system with their orderly daily management, and has involved with the 322 households of 1,103 people in the village. The annual per capita income of villagers reaches more than 12,200 yuan (1,776 US dollars).
Editor: Tommy Tan.