Highland barley a plant of fortune for Tibetans
2018-08-27 09:54:00 | From:Xinhua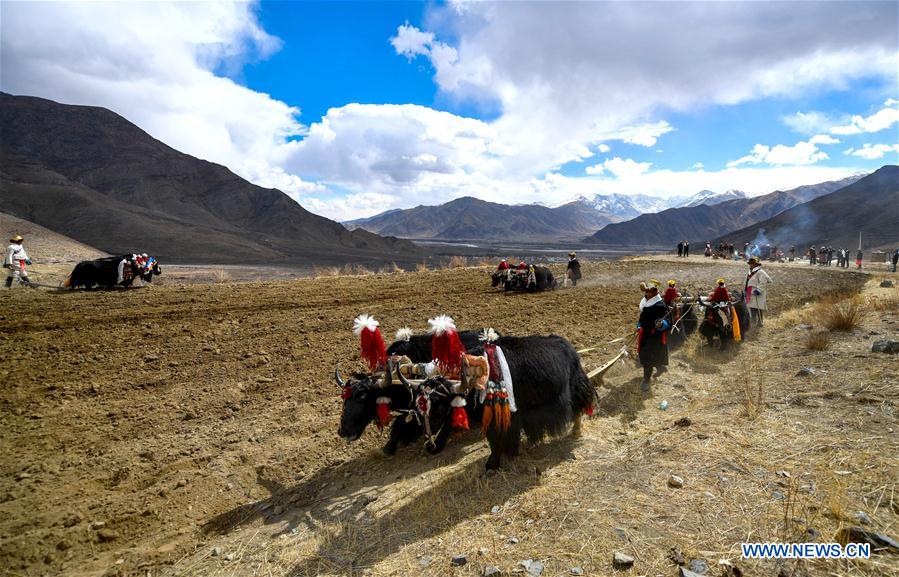 Farmers and their yaks attend a spring ploughing ceremony in Kere village of Bomtoi township, Lhasa, Southwest China's Tibet autonomous region, March 17, 2018. [Photo/Xinhua]
Growing 1,000 meters above sea level on the Qinghai-Tibet plateau, highland barley has been filling the bellies of Tibetans for generations. Now the plant is also bringing them wealth.
Tsering Yangzom, 30, was busy gathering in highland barley over the weekend. She expects to harvest 1,200 kg this year. Besides the portion she keeps for her family, she intends to sell the rest to a local processing factory, which will bring nearly 1,000 yuan ($145) of extra income.
Lhorong in Tibet's Chamdo City is known for its quality highland barley. With nearly 4,000 hectares of highland barley, the county is called "the granary of east Tibet." About 55,000 people are engaged in the production and processing of the grain.
After harvest, the highland barley will be washed, dried, roasted and ground into flour-like tsamba -- the most popular staple food in Tibet. Since last year, Lhorong tsamba has been granted a geographic indication and is thus protected.
Farmers used to keep most of the yield as the staple food for the next year. However, as new breeds of high-yield barley were introduced, farmers are able to sell their surplus to a local tsamba company, where the grain is processed into flour, noodles and biscuits.