Over 1.5 mln U.S. East Coast residents relocated as Hurricane Florence approaches
2018-09-12 07:22:36 | From:Xinhua
  More than 1.5 million residents along the U.S. East Coast are under mandatory evacuations as Category 4 Hurricane Florence is approaching, the authorities said Tuesday.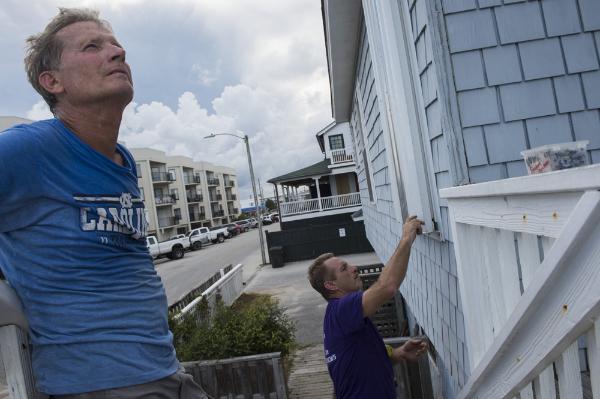 Brian Calahan (C) seals a window on a beach house as his friend Ken Ripely looks on days before the arrival of Hurricane Florence at Wrightsville Beach, North Carolina on September 11, 2018. [Photo: AFP/Andrew Caballero-Reynolds]
  Hurricane Florence, seen as the strongest storm to take aim at the region in decades, is "a very dangerous storm" expectedly to hit the East Coast, Jeffrey Byard, the associate administrator for response and recovery with the Federal Emergency Management Agency (FEMA), said at a news conference.
  "There is currently nothing that's projected to slow the storm down, to weaken the storm," said Byard. "We are planning for a hard impact of a Category 4 storm."
  Washington D.C. on Tuesday declared a state of emergency ahead of the storm, joining South Carolina, North Carolina, Virginia and Maryland. West Virginia has declared a state of preparedness.
  "Hurricane Florence will lash the Carolinas and Virginia late Thursday as an intense hurricane with life-threatening storm surge, destructive winds and potentially catastrophic inland rainfall flooding in one of the strongest strikes on record for this part of the East Coast," U.S meteorologists warned Tuesday.
  "If you're in the East Coast threat zone, it's time to finish up your hurricane preparedness plan and be ready to implement, if necessary. Residents in coastal areas should follow evacuation orders from local officials because of the potential for life-threatening storm-surge flooding," they urged via the U.S. Weather channel.
  Byard said FEMA is also expecting "massive damage" including power shortage, infrastructure destruction and potential loss of life when the storm makes landfall.
  "We cannot stress the importance to our citizens that are in evacuations to heed the local and state warnings," he said.
  The first outer rainbands from Florence could move into the outer banks of the Carolinas and southeast Virginia Wednesday night, according to an NBC News report.
  Hurricane-force winds could extend inland into central North Carolina and central Virginia later in the day on Thursday and a large area of tropical storm-force winds were expected to last until Friday, said the report.
  The hurricane could also linger over the region until early next week, with rainfall totals potentially exceeding 15 to 20 inches and even up to 30 inches in some areas, which the U.S. National Hurricane Center said "could produce catastrophic flash flooding."
  As of 8 a.m. ET on Tuesday, Florence was packing maximum sustained winds of near 130 mph (215 kph).