DPRK leader Kim Jong Un renews commitment to denuclearization
2018-09-06 09:51:32 | From:CGTN
  The Democratic People's Republic of Korea (DPRK) leader Kim Jong Un has renewed his commitment to the denuclearization of the Korean Peninsula, the country's state media reported on Thursday.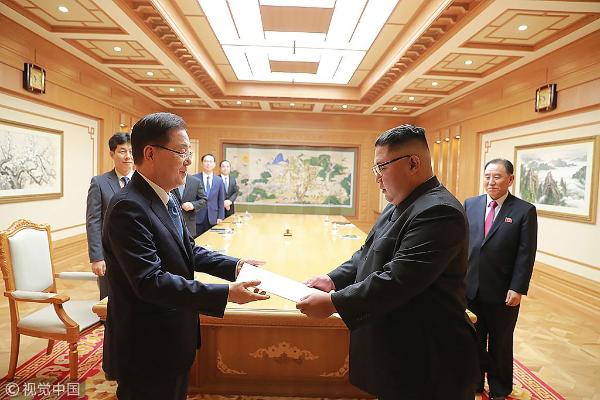 This handout photo from South Korea's presidential Blue House taken on September 5, 2018 shows North Korean leader Kim Jong Un (2nd R) receiving a personal letter sent by South Korean President Moon Jae-in from Chung Eui-yong (L), a special envoy of Moon, during their meeting in Pyongyang. [Photo: VCG]
  Kim made the remark during his meeting with a delegation from the Republic of Korea that visited Pyongyang on Wednesday for the inter-Korean summit preparations.