White House counsel Don McGahn to depart in the fall
2018-08-29 23:21:39 | From:AP
  President Donald Trump is tweeting that his White House counsel, Don McGahn, will be departing in the fall after the Senate confirmation vote for Judge Brett Kavanaugh to serve on the Supreme Court.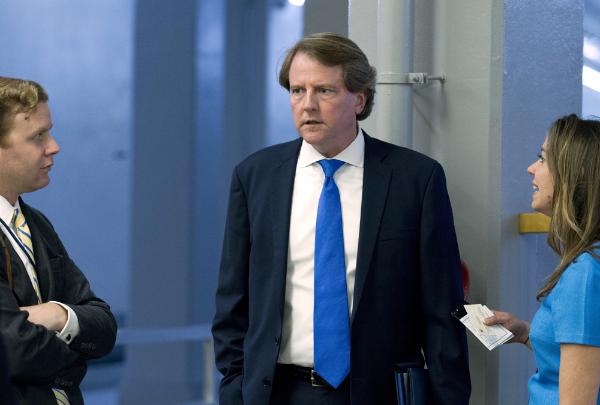 White House counsel Don McGahn, follows Supreme Court nominee Judge Brett Kavanaugh to his meeting with Sen. Amy Klobuchar, D-Minn., on Capitol Hill in Washington, Aug. 21, 2018. [Photo: AP/Jose Luis Magana]
  Trump praised his top White House lawyer on Wednesday, saying he has "worked with Don for a long time and truly appreciate his service!"
  McGahn has played a major role in Trump's overhaul of the federal judiciary with conservative judges. And he played a prominent role in Trump's selection of Supreme Court Justice Neil Gorsuch and the president's nomination of Kavanaugh.
  McGahn has had a tumultuous tenure, marked by his threat to resign last year if Trump continued to press for the removal of Robert Mueller as the special counsel overseeing the investigation into Russian election interference.
Related News
The White House on Wednesday banned a CNN reporter from a press conference after the reporter acted "inappropriately", drawing controversy.

China issued a white paper about ecological progress on the Qinghai-Tibet Plateau, which is a key eco-safety barrier in China and Asia, and a focus of the country's drive to promote ecological progress.

75-year-old Tibetan Tsering Namgyal has suffered through the vicissitudes of life, but today, he lives a happy and quiet old age life.