Mattis says no plans to suspend more military exercises with S. Korea
2018-08-29 08:51:28 | From:Xinhua
  U.S. Defense Secretary James Mattis said on Tuesday that the United States has no plans to suspend any more military exercises with South Korea.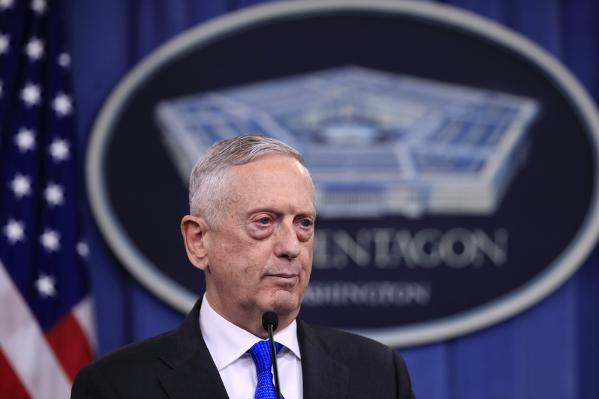 Secretary of Defense Jim Mattis speaks to reporters during a news conference at the Pentagon, Tuesday, Aug. 28, 2018 in Washington. [Photo: AP/Manuel Balce Ceneta]
  In a press briefing, Mattis said that "we took the step to suspend several of the largest exercises as a good-faith measure coming out of the Singapore summit."
  "We have no plans at this time to suspend any more exercises," he said, adding that no decisions have yet been on major exercises for next year.
  Washington has not made decisions on whether to continue suspending major military exercises with South Korea for next year, he said.
  "We are going to see how the negotiations go, and then we will calculate the future, how we go forward," Mattis said.
  The Pentagon said on June 22 that it has "indefinitely" suspended two military exercise programs with South Korea to support the agreements between U.S. President Donald Trump and Kim Jong Un, top leader of the Democratic People's Republic of Korea.
  According to a statement released by Pentagon spokesperson Dana White, Mattis has indefinitely suspended select exercises, including "FREEDOM GUARDIAN along with two Korean Marine Exchange Program training exercises scheduled to occur in the next three months."
  Earlier on June 18, the Pentagon said that it had suspended all planning for the joint military drills with South Korea in August, referring to an annual South Korea-U.S. military exercise slated for August with the full name of Ulchi Freedom Guardian.
  Pyongyang has denounced the exercises as a rehearsal for northward invasion and a violation of the spirit of the Panmunjom Declaration issued during the inter-Korean summit in late April.
  Trump met with Kim on June 12, when they promised to build new bilateral relations and work toward a "complete denuclearization of the Korean Peninsula."
  After the meeting, Trump said the United States would stop war games with South Korea "unless and until we see the future negotiation is not going along like it should." He also said the drills were "very expensive" and "provocative" "war games."
  Last year's Ulchi Freedom Guardian, attended by about 17,500 U.S. military forces, went on for 11 days.
  Another major U.S. exercises with South Korea, codenamed Key Resolve and Foal Eagle, took place earlier this spring.