U.S. judge extends ban on online plans for printed 3D guns
2018-08-28 09:53:35 | From:Xinhua
  A U.S. judge in Seattle of Washington state on Monday renewed a ban on the release of plans for printing untraceable 3D guns on the internet, which would endanger national security and public safety.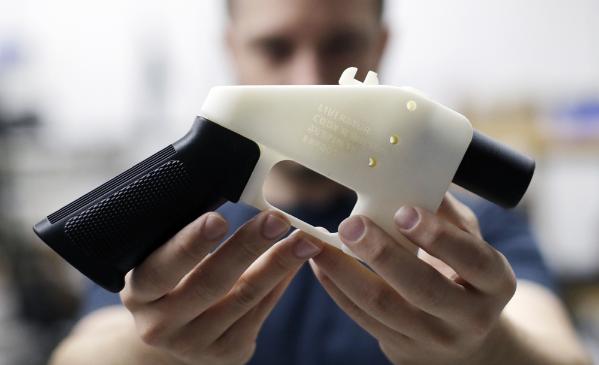 Cody Wilson, with Defense Distributed, holds a 3D-printed gun called the Liberator at his shop, Wednesday, Aug. 1, 2018, in Austin, Texas. [File photo: AP/Eric Gay]
  Judge Robert Lasnik of the U.S. District Court of Western District of Washington at Seattle issued a "preliminary injunction" blocking the publication of online plans for making untraceable 3D weapons by a Texas-based pro-gun group Defense Distributed.
  The ban has been pursued by 19 U.S. states and the District of Columbia, plus the Brady Campaign to Prevent Gun Violence, a gun control advocacy group, which have sued the U.S. government for settling a lawsuit nearly two months ago that allowed blueprints of 3D-printed guns to be posted online.
  Defense Distributed argued that the access to the online blueprints is guaranteed under the U.S. Constitution's First and Second Amendments, which protect free speech and the right to bear arms, respectively.
  Lasnik issued a temporary restraining order on July 31 to block the release of the online blueprints for printed untraceable 3D guns, and the order is due to expire on Tuesday.
  The district judge turned the temporary restraining order into a preliminary injunction, which will remain in place until the case is resolved.
  Plaintiffs represented by Washington and other states "have a legitimate fear that adding undetectable and untraceable guns to the arsenal of weaponry already available will likely increase the threat of gun violence that they and their people experience," Lasnik ruled.
  "The instability and inaccuracy of 3-D printed firearms pose threats to the citizens of the states, including both users and bystanders, while the toy-like appearance increases the risk of unintentional discharge, injury and/or death," he said.
  In 2012, the federal government initially banned the posting of computer aided design allowing users to manufacture a plastic handgun with a 3-D printer, but the ban was challenged by Defense Distributed in a lawsuit.
  The government signed a tentative settlement in April with Defense Distributed on releasing plans for 3D weapons on the internet.
  Lasnik said that posting online plans for 3D weapons that carry no information about licenses, serial numbers and registrations would post security risks for the public and be abused by felons or terrorists.