Pompeo, Hunt discuss Russia "threat" in Washington
2018-08-23 14:24:26 | From:Xinhua
  U.S. Secretary of State Mike Pompeo on Wednesday met with his British counterpart Jeremy Hunt to discuss the Russian "threat".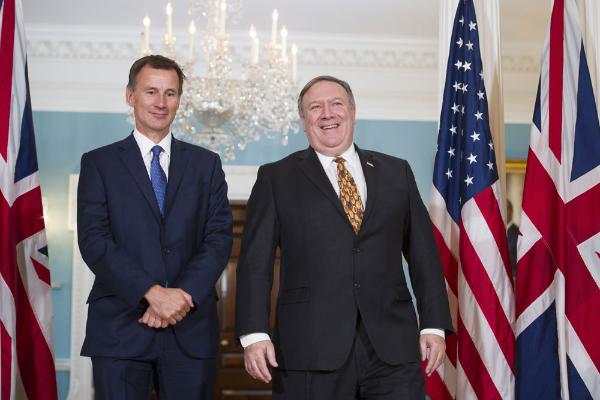 U.S. Secretary of State Mike Pompeo, right, meets with United Kingdom Secretary of State for Foreign and Commonwealth Affairs Jeremy Hunt at the State Department, in Washington, Wednesday, Aug. 22, 2018. [Photo: AP/Cliff Owen]
  According to a statement issued by State Department spokesperson Heather Nauert, Pompeo and Hunt discussed "a number of global issues, including the ongoing threat posed by Russia's dangerous and destabilizing activity and Iran's malign behavior, the defeat ISIS campaign, as well as the humanitarian situation in Yemen."
  "As close allies, the two committed to deepening cooperation on security and foreign policy issues and welcomed the prospect of a future free trade agreement," the statement read.
  After their meeting, Pompeo and Hunt expressed their gratitude to U.S. diplomats expelled by Russia after the Western joint response to Russia's alleged use of a chemical weapon in a murder attempt in Britain.
  Earlier on Tuesday, Hunt said in a speech at the United States Institute of Peace in Washington that the Western world should bluntly respond to Russia with "one voice."
  Remarking that "the established rules of international conduct are repeatedly being flouted by major countries like Russia," he said "Russia's foreign policy under President (Vladimir) Putin has made the world a more dangerous place."
  "Today the United Kingdom asks its allies to go further by calling on the European Union to ensure its sanctions against Russia are comprehensive, and that we truly stand shoulder to shoulder with the U.S.," Hunt said.
  "That means calling out and responding to transgressions with one voice whenever and wherever they occur, from the streets of Salisbury to the fate of Crimea," he added.
  In response to Hunt's remarks, Russian Foreign Minister Sergei Lavrov said Britain had too high an opinion of itself and was trying to impose its Russia policy on the EU and the United States.
  Relations between Russia and the West have deteriorated over the poisoning of a former Russian spy in Britain earlier this year. London accuses Moscow of involvement in the attack, an accusation Moscow denies.
  Following the incident, more than two dozen Western countries, including the United States, expelled a large number of Russian diplomats. Russia expelled an equal number of foreign diplomats in response.
  Washington has threatened to sanction Russia over the case in two phases. The first slew of sanctions would come into effect around Wednesday.
  On Tuesday, the U.S. Department of the Treasury announced sanctions on two entities and two Russian individuals. The same day, the Senate held two hearings on Russia, with administration officials telling lawmakers they would impose "much more economic pain" on Russia if it did not change its global behavior significantly.
  Since January 2017, the Trump administration has sanctioned 217 Russia-related individuals and entities.
  Moscow has questioned the U.S. seriousness to improve ties with Russia, and said it reserves the right to take additional countermeasures against U.S. diplomatic properties in Russia if Washington continues its hostility.