S. Korea, DPRK discussing cooperation to modernize inter-Korean railways
2018-08-09 14:20:06 | From:Xinhua
  Officials from South Korea and the Democratic People's Republic of Korea (DPRK) discussed on cooperation Thursday to modernize and eventually connect railways across the border, according to local media.
  An unnamed official of Seoul's unification ministry in charge of inter-Korean affairs was quoted as saying that the inter-Korean talks to discuss railway cooperation started from 9:20 a.m. local time.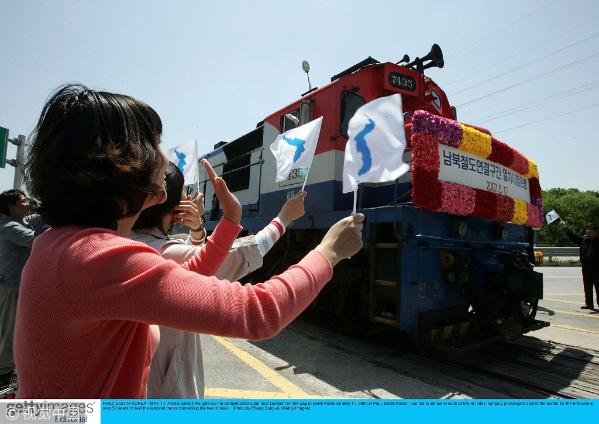 A train passes the gate for the Demilitarized Zone near Dorasan on the way to North Korea on May 17, 2007 in Paju, South Korea. [Photo: VCG]
  Six DPRK officials crossed the military demarcation line (MDL), which separates the two Koreas, into the Customs, Immigration and Quarantine (CIQ) in the South Korean side at about 8:30 a.m. local time.
  The officials from the two sides were reportedly discussing schedule and ways to conduct a joint on-site survey of the DPRK railways along the western and eastern corridors of the Korean Peninsula.
  It was the second of its kind since the first such meeting was held on July 24 at the DPRK's border town of Kaesong.
  Railway policymakers of the two Koreas conducted the joint field surveys of the DPRK railway in the eastern coastal area on July 20 and in the western corridor on July 24, respectively.
  South Korean President Moon Jae-in and top DPRK leader Kim Jong Un agreed to modernize and connect railways across the inter-Korean border during their first summit meeting on April 27 in the border village of Panmunjom.
Related News
A red-hot voyage to the sun is about to bring us closer to the star than ever before. NASA's Parker Solar Probe will hurtle through the sizzling solar atmosphere and come within just 3.8 million miles of the surface.

Photos taken showing the closing ceremony of 2018 FIFA World Cup.

Thailand authorities are preparing a compensation package worth 63.9 million Thai Baht (around 1.93 million USD) to the victims of the Phuket boat accident, reports Thailand's World Journal.