Death toll of Indonesia's quake climbs to 131, over 1,400 badly injured
2018-08-08 21:51:16 | From:Xinhua
  The number of death toll of Sunday's 7.0-magnitude quake in Lombok Island of Indonesia rose significantly to 131 people with a total of 1,477 of others seriously wounded, an official said on Wednesday.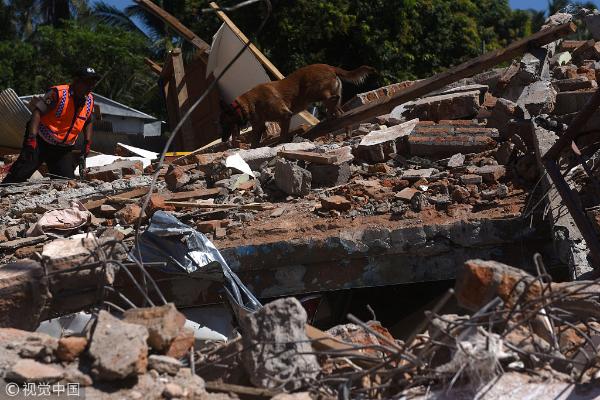 A ruined place in Lombok Island of Indonesia after the 7.0-magnitude earthquake,Indonesia,Aug. 8. [Photo:VCG]
  The jolts destroyed as many as 42,239 houses and a total of 458 school buildings, forcing 156,003 of residents to flee home and take shelters in several spots in the tourist destination island, spokesman of national disaster management agency Sutopo Purwo Nugroho said.
  Most of the evacuees were found in North Lombok, which suffers the most the impact of the shallow under-earth quake of 15 km, Sutopo noted.
  "These figures are looked to extend as the risk assessment remains continuing and has not been completed. Besides, all the victims have not been discovered," he told Xinhua in a text message.
  Search and rescue for the affected persons involving soldiers, police personnel and those from search and rescue office is underway now, as 14 heavy machinery equipment has been sent to the quake-hit districts to support the rescue operation, said Sutopo.
  Some broken buildings, including two mosques and a health clinic, have been heeded during the rescue mission as falling debris and blocks of concretes believed to hit and buried dozens of prayers and people inside, according to the agency.
  By far, a total of 332 aftershocks have followed the initial quake, according to the meteorology and geophysics agency.
  Meanwhile, repair of electricity facilities, which had been damaged by the temblor that triggered outage, continues, Sutopo added.
Related News
Representatives from 14 overseas Chinese media in 12 countries paid a visit to Wenchuan County of Aba Tibetan and Qiang Autonomous Prefecture on May 23rd, witnessing the area's reconstruction achievement after the earthquake that occurred in 2008.

It has been 10 years since the May 12 Wenchuan Earthquake in 2008.