44 die in bus accident in northern India
2018-07-01 15:07:30 | From:Xinhua
  At least 44 people have been killed after a passenger bus plunged into a deep gorge in the northern Indian state of Uttarakhand, officials said Sunday.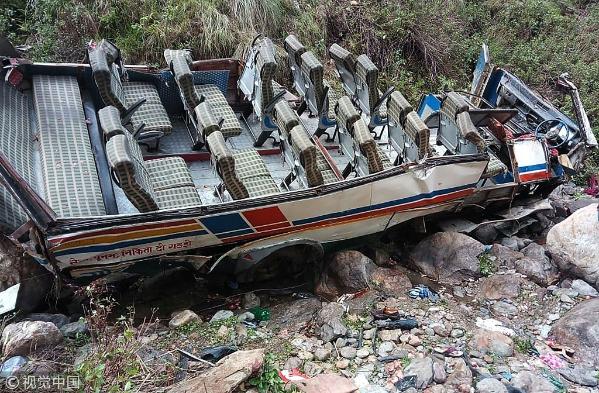 This handout photo taken and released on July 1, 2018 by the State Disaster Response Found (SDRF), shows a wrecked bus and passengers belongings scattered after the bus fell into a gorge in the hilly Pauri Garhwal district in the northern state of Uttarakhand. [Photo: SDRF]
  The accident occurred on the Pipali-Bhoan motorway in Pauri Garhwal district, some 200 km from the state capital of Dehradun.
  "The bus carrying some 45 people skidded off the mountain road and fell into the 60-feet-deep gorge. While 35 people died on the spot, five others were injured," a police official said.
  The death toll may rise as the condition of four injured are said to be serious, he said.
  Local TV channels reported that the National Disaster Response Force has rushed to the spot to help the police in rescue operations.
  A probe has been ordered into the incident, the official added.
Related News
India is moving toward expanding IT cooperation with China with the establishment of a second IT corridor in Guiyang, capital of Southwest China's Guizhou Province.

This year, the Nathu La Pass is expected to see about 500 officially-organized pilgrims from India who will make the 2,874-km pilgrimage.