China launches campaign against illegal rhino, tiger trade
2018-11-14 22:40:39 | From:GlobalTimes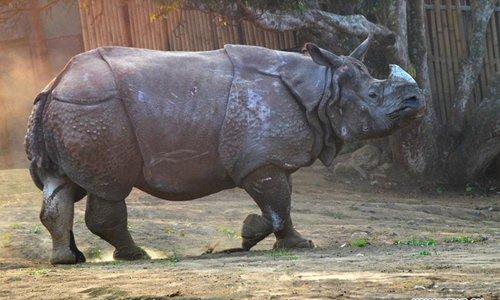 Photo taken on June 8, 2018 shows a male Indian rhinoceros (Rhinoceros unicornis) after it was transported from Britain as part of an endangered species-breeding program, at Batu Secret Zoo in Malang, Indonesia. Photo: Xinhua
  China launched a nationwide campaign on Wednesday against the illegal trade of rhinoceros, tiger and their byproducts after a controversial decision to reopen the trade enraged wildlife groups.
  State Council, China's cabinet, announced in October that the country had lifted a 25-year ban on the trade of rhinoceros and tiger bones in special circumstances including scientific research, education, life-saving medical treatment, relics protection, cultural exchanges and law enforcement.
  The permission was met with criticism from animal rights protectionists who claimed that with wild tiger and rhino populations at such low levels and facing numerous threats, legalized trade in their parts is a risky gamble for China to take.
  Ding Xuedong, the Chinese State Council Executive Deputy Secretary-General, told media on Monday that the issuance of detailed regulations to implement the October announcement has been postponed.
  Zhang Wei, a professor from the College of Wildlife Resources at Northeast Forestry University in Harbin, Northeast China's Heilongjiang Province, told the Global Times that "the wildlife preservation campaign is a positive reaction to international response to the October announcement."
  "It demonstrates that China never changes its stance in wildlife protection and cracking down on related crimes," Zhang noted.
  SFGA chief Zhang Jianlong reiterated at a teleconference on Tuesday China's resolve to fight the illegal trade of the two animals and their byproducts together with the international community to protect those animals, according to SFGA's website.
  The campaign, which will last until December 31, focuses on illegal hunting, smuggling, processing, delivery and trade of rhinoceros, tiger and their byproducts, the SFGA said.
  It is aimed at curbing such crimes and creating an atmosphere where all people consciously resist the illegal trade of those animals.
  The World Wildlife Fund also showed its support for the State Forestry and Grasslands Administration (SFGA) campaign on Wednesday.
  It said in a statement sent to the Global Times on Wednesday that the campaign and delay in implementing the October announcement helped "maintain the leadership role of China in tackling the illegal wildlife trade and reducing market demand."