China, Singapore upgrade iconic knowledge-city project
2018-11-13 01:54:30 | From:Xinhua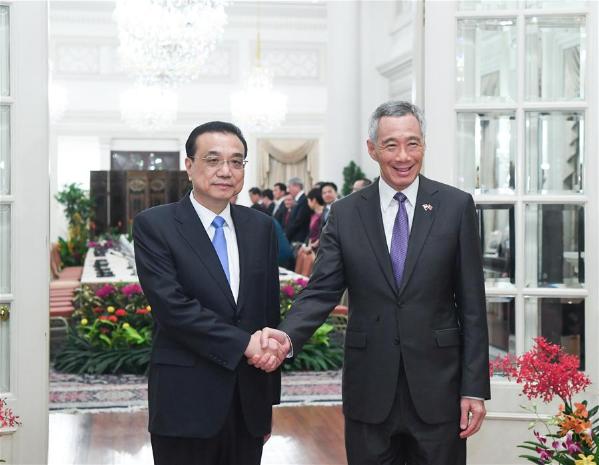 Chinese Premier Li Keqiang (L) holds talks with Singaporean Prime Minister Lee Hsien Loong in Singapore, Nov. 12, 2018. (Xinhua/Shen Hong)
  SINGAPORE, Nov. 12 (Xinhua) -- China and Singapore have lifted the Guangzhou Knowledge City, an exemplary program in bilateral cooperation, to a national-level project, Chinese Premier Li Keqiang said here Monday.
  In talks with his Singaporean counterpart, Lee Hsien Loong, Li said the two sides should seize the opportunity to actively expand cooperation in smart-city building, promote the upgrading of city management and artificial intelligence development, and mull new local-level collaboration.
  Lee said the Singaporean side is glad to see the upgrade of the project, and ready to step up smart-city cooperation with China.
  The Sino-Singapore Guangzhou Knowledge City, positioned as a model and catalyst of the economic upgrading and environmental enhancement of south China's Guangdong Province, is a major joint project intended to set the trend for sustainable and knowledge-based cities.
  Intergovernmental cooperation projects between China and Singapore, such as the Suzhou Industrial Park and the Tianjin Eco-City, have yielded fruitful results. The upgrade of the Guangzhou Knowledge City project is expected to inject fresh momentum into bilateral practical cooperation.
  During the first official visit to Singapore by a Chinese premier in 11 years, Li will also attend the 21st leaders' meeting between China and the Association of Southeast Asian Nations (ASEAN) and the 21st ASEAN-China, Japan and South Korea leaders' meeting, respectively known as 10+1 and 10+3, as well as the 13th East Asia Summit.