China-Eurasia Expo a key platform for trade cooperation
2018-08-31 10:21:30 | From:ChinaPlus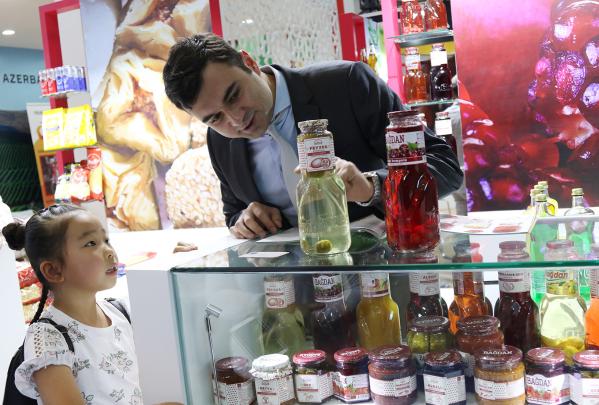 An Azerbaijani exhibitor introduces his company's compotes, a unique local food, to a visiting child during the 6th China-Eurasia Expo in Urumqi, Xinjiang Uygur Autonomous Region on Thursday, August 30, 2018. [Photo: China Plus / Sang Yarong]
  More than 700 enterprises from China and across Eurasia are taking part in the 6th China-Eurasia Expo that has opened in Xinjiang.
  At Nala Dairy's booth at the trade expo, a variety of goat and camel milk products are on display.
  Ilmizat is an employee in the sales department of the new company, which was recently established in Xinjiang. He says that the expo is a good opportunty to raise the profile of their brand in the region.
  "As we focus on investing and developing markets in Central Asia, the Belt and Road Initiative is a very good opportunity for our company. More of our products are being exported to countries like Russia, Kazakhstan, Uzbekistan, and Turkmenistan."
  Exhibitors from overseas are taking advantage of the opportunity presented by the expo to expand their businesses inside China.
  Gilan has taken to the stage at the expo to promote its range of specialty food products ranging from juices to wines. Ismayil Alizade, regional export manager of the company from Azerbaijan, says they keen to tap into the market in China.
  "We don't have customers yet in China, but we'll see. And hopefully, people here will like our products and will start to know Azerbaijani products. We are looking for big distributors to distribute our products to supermarket chains."
  At the opening ceremony for the expo, Vice Commerce Minister Fu Ziying says the trade cooperation between China and Eurasian countries has expanded under the framework of the Belt and Road Initiative.
  "Last year, the volume of bilateral trade volume between China and Eurasian countries reached 2.9 trillion U.S. dollars, accounting for 70 percent of the total amount of China's foreign trade. And mutual investment reached nearly 200 billion U.S. dollars, taking up 78 percent of China's two-way investment."
  Growing from its roots as a region trade fair into an increasingly international event, the China-Eurasia Expo has now become a key platform for promoting trade along the Silk Road Economic Belt.
  Last year, deals were signed that were valued at 18 billion U.S. dollars. Organizers are expecting this figure to grow even more this year.