​China's industrial robots endeavor to upgrade core technology
2018-08-16 09:20:32 | From:ChinaPlus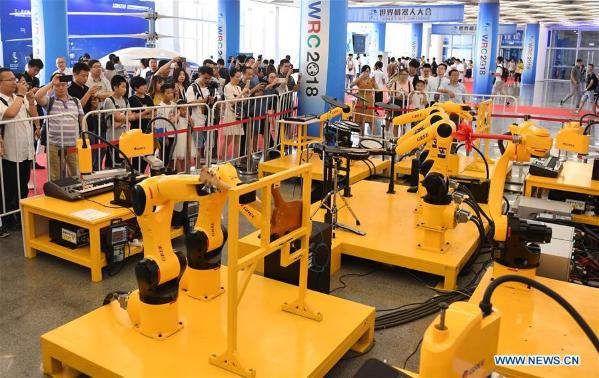 Visitors watch the performance of a robot orchestra at World Robot Conference 2018 in Beijing, capital of China, Aug. 15, 2018. Kicking off on Wednesday, the Conference attracted contestants from 16 countries and regions to participate in the contest section.[Photo: Xinhua]
  The 4th World Robot Conference in Beijing is underway. Robotics experts are taking a look at China's burgeoning industrial robotics industry.
  SMC China produces automation technology along with other key components for industrial robots. The company is showing off its cutting-edge assembly line robot arms lines at this year's World Robot Conference.
  Ma Qinghai, the general manager of SMC China, says his company is committed to research and development into core robotic components, which he sees as a development bottleneck for the country's entire robot industry.
  "Core components for robots like reduction gears, servomotors, and control systems are currently controlled by Japanese and Germany enterprises. But these major core components account for about 70 to 80 percent of the total cost. As far as I know, most of China's mid-to-high end robots rely on imported components, so domestically produced robots have higher costs compared to those from world-leading companies."
  Ma says that SMC China is also trying to make breakthroughs in areas such as wireless remote controls and sensor technologies,so that they're ready to adapt to the future trends of the industrial robot market.
  More and more of China's robot makers have realized that core components are a weak link for their industry, and are making progress in closing this gap.
  Professor Wang Tianmiao is honorary director of the Robotics Research Institute at Beihang University.
  "Taking reduction gear as an example, more than 60 percent of China's mid-low end robots now use homemade harmonic reduction gears. The number of these reduction gears made in China has exceeded 30,000, and the goal is 100,000."
  Professor Wang suggests that Chinese enterprises strengthen their basic research into all parts of product development. He adds that Chinese enterprises need to be patient, because it could take five to ten years or even longer for them to be able to manufacture high quality core components domestically.
  Jeff Burnstein, the president of the American Robotic Industries Association, says that by improving their ability to produce these core components, China's industrial robot builders are making impressive progress catching up with their counterparts in Europe and Japan.
  "There is tremendous opportunity in manufacturing, the Chinese robot manufacturers' technology is improving, winning a bigger share of the domestic market. And I think that will continue. And I think they'll make a stride globally as well as their technology improves."
  China became the world's largest market for industrial robots in 2013, with sales in the country growing by an average of 35 percent a year. In 2017, sales of China's industrial robots were worth 4.22 billion U.S. dollars, up 24 percent on the previous year.
Related News
The 2018 World Robot Contest Finals opened Friday in Wuhan, capital of central China's Hubei Province, with over 5,000 contestants from home and abroad gathering together for the event.

A robot developed for public legal services was unveiled Tuesday in the plateau province of Qinghai in northwest China.