Food carnival during Shoton Festival
2018-08-15 11:03:00 | From:China Tibet Online
Recently, the people of Lhasa in Tibet began a small holiday of leisure, unveiling giant Buddha thangkas, watching Tibetan opera performances, and enjoying Lingka hin woods and parks . The atmosphere in the holy city of Lhasa is full of festivity.
With the arrival of the traditional Shoton Festival, food enthusiasts also have started their own holiday relaxation: eating.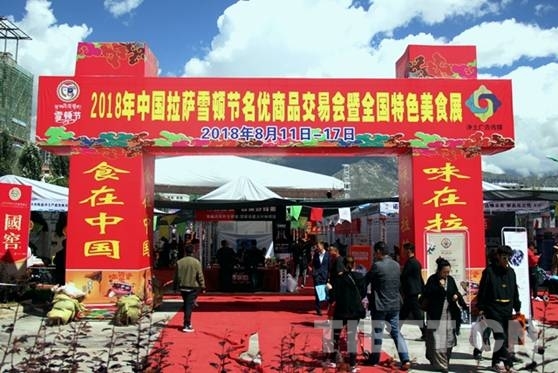 "Yesterday, my family and I went to the Norbulingka to watch the Tibetan opera performances. Today, my friends and I come here to taste food specialties from other provinces and cities." Tsekyi and her friends plan to enjoy a variety of foods at the Shoton Festival Goods Trade Fair.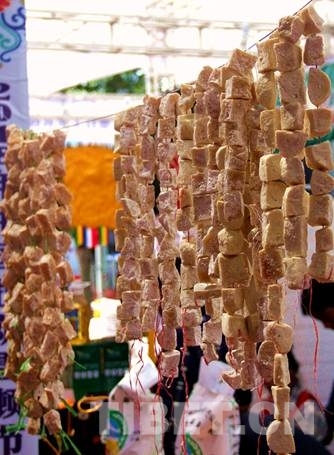 The 2018 China Lhasa Shoton Festival Goods Trade Fair will last until August 17. There are 380 booths in the fair area, which covers nearly 10,000 square meters. There are five main exhibition areas, including the installation room area, automobile exhibition area, nationally famous goods area, the Lhasa Pure Land and Creative Products area, and national foods area. In addition to exhibitors from within Tibet, there are also manufacturers coming from 10 mainland provinces and regions such as Beijing, Shanghai, Inner Mongolia, Ningxia, and Xinjiang, as well as from Hong Kong and Macau.
In recent years, during the traditional Shoton Festival, the general public has enjoyed traditional cultural activities such as unveiling of the Buddha thangkas and Tibetan opera performances. According to incomplete statistics, 185,000 people visited the 2017 Lhasa Shoton Festival Goods Trade Fair, where the transactions total reached 108 million yuan, including on-site transactions of 45.185 million yuan and 63.20 million yuan in contract deals.
Editor:Yanina