Tomb excavation plots foiled, 54 artifacts rescued: Qinghai
2018-06-15 15:34:00 | From:China Tibet Online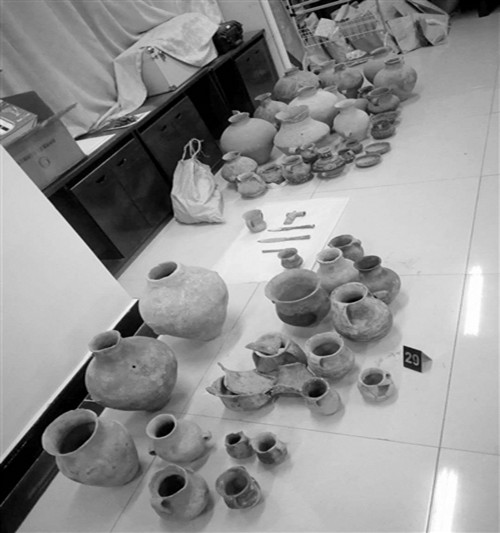 Some of the precious artifacts recovered by the police. The Photo was provided by the Publicity Department of the Police Bureau of Qinghai Province.
According to the Publicity Department of the Police Bureau of Qinghai Province, the police department of Tongren County of Huangnan Tibetan Autonomous Prefecture has successfully foiled five plots to illegally excavate the ancient tombs of Kayue, as well as four plots in other areas. Eight people have been detained, two vehicles were confiscated, and 54 precious artifacts including ceramics and bronze have been recovered.
In April and May of this year, some residents of Awuhu Village in Tongren County have found more than a dozen pits in their fields, and suspected there were illegal tomb excavation. After the Tongren County police received reports, their made careful investigations and found the pits were left behind by grave robbers. The county's Party Committee immediately set up a taskforce and began to work on the case.
Tongren County is a renowned cultural and historical city at the national level, and its numerous ancient tombs have always been the target of criminals.
On June 1st, the police captured four suspects in Wendu Tibetan Township of Xunhua Salar Autonomous County in Haidong City, during a suspected grave robbery. Further investigations have led to the capture of four suspects with the surname of Yang, Guo, Wu, and Xian in Yongjing County of Gansu Province, and the suspect with surname Ma, who was suspected of the illegal sale of cultural artifacts. Nine cases of tomb excavation were solved, two vehicles were detained, and 50 ceramic items and 4 bronze items were recovered.
Currently, eight suspects have been criminally detained, and suspect Ma, allegedly involved in the sale of artifacts, has been released on bail and is awaiting trial.