India's hegemonic policy at the heart of Doklam stand-off
2017-08-10 16:11:00 | From:China.org.cn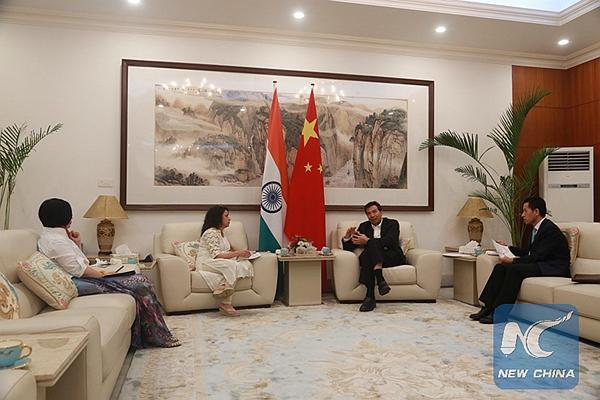 Chinese Ambassador Luo Zhaohui (R2) in an interview with the Press Trust of India news agency in New Delhi, India, July 4, 2017. [Xinhua/Chinese Embassy in India]
In 1969, Nepal's King Mahendra took a bold step by removing Indian security checkposts from the Nepal-China border. Allowing "Indian surveillance units" to operate on Nepalese territory was a brazen attack on the country's sovereignty and dignity. However, the late king, known for his diplomatic acumen, resolved this problem peacefully, thwarting India's bid to make Nepal as its protectorate state. In retaliation, India imposed embargo on Nepal in the same year.
Time has proved that Mahendra's decision was far-sighted given the ongoing stand-off between China and India over Doklam, located near the China-Bhutan border. The tension arose when Indian army men interfered with the widening of a road by the Chinese side in Doklam that is part of its territory.
Indian troops have been living in Bhutan in the name of providing training to Bhutanese soldiers. Like the Indian security check posts deployed in Nepal, the Indian soldiers are taking over the security affairs of Bhutanese regime.
India has been suspicious of China's growing influence and rapprochement with Bhutan, which it considers a protectorate state. So, it intruded into Bhutan to create a Cold War-like military tension. Such brinkmanship threatens peace and order in the region.
M.K. Bhadrakumar, a former Indian diplomat, said that contrary to the claims of the Indian media, there has been no Chinese "intrusion" onto India's sacred soil.
"Indian military moved into Doklam on the China-Bhutan border, which has been under Chinese control all along," Bhadrakumar wrote in the Asian Times on July 17. Indian media claim a standoff occurred when China started building a road in Doklam. However, Bhadrakumar insisted, "There is evidence that a road was already in existence for over a decade at least and China was probably widening it."
He also refuted the claims that India intervened at the request of Bhutan.
India's coercive and hegemonic foreign policy lies at the heart of the current flare-up. Even after becoming independent, the new leadership of free India did not shed the old colonial mindset it inherited from the British.
A sense of security paranoia gripped successive Indian governments as they dealt their neighbors. From the very beginning, India considered Nepal, Bhutan and Sikkim as buffer states.
In his letter to the first Indian Prime Minister Jawaharlal Nehru on November 7, 1950, the then home minister Sardar Ballabhbhai Patel called for deploying strong outposts on its northern frontiers contiguous to Nepal, Bhutan and Sikkim. In another letter written to Nehru on December 3, 1950, Patel's posture was more aggressive. He wrote: "…… India should send its army to Nepal and take her under its control, eventually to make it yet another member of the Indian Federation, just like Kashmir and Hyderabad."
India's failure to respect the sovereignty of other nations puts it at loggerheads virtually with all neighbors in South Asia.
In 1952, India launched a coercive foreign policy in Nepal under pro-Indian Prime Minister Matrika Prasad Koirala. It succeeded in setting up 18 Indian check posts along the Nepal-China border. Though these check posts were finally closed down and Indian soldiers were sent back home, India encroached on Nepal's territory in Kalapani, Darchula District, following the Sino-India war in 1962.
Indian paramilitary forces have camped in and around the Kalapani-Limpiyadhura area, covering 37,000 hectares of Nepalese land ever since. It has also deliberately encroached on 14,000 hectares in Susta and a total of 12,000 hectares in 71 other places along the Nepal-India border.
Despite strong protests and several rounds of negotiations, India refuses to hand over the occupied land to Nepal.
Kalapani has become one of the most vexing issues in the bilateral relations between Nepal and India. The wounds of Kalapani open time and again, but no Nepalese prime minister has dared to take the bull by the horns to date.
What will happen if India and China face off in a tri-junction region near Kalapani like that of Doklam? This is, of course, a chilling question. Having found a sagacious friend like China on the northern side, it is widely believed that Nepal won't confront such a dangerous geopolitical dilemma like Bhutan is facing now.
Ritu Raj Subedi is an associate editor of The Rising Nepal.