Penpa Lhamo: A Tibetan woman in new era
2018-08-31 16:18:00 | From:China Tibet Online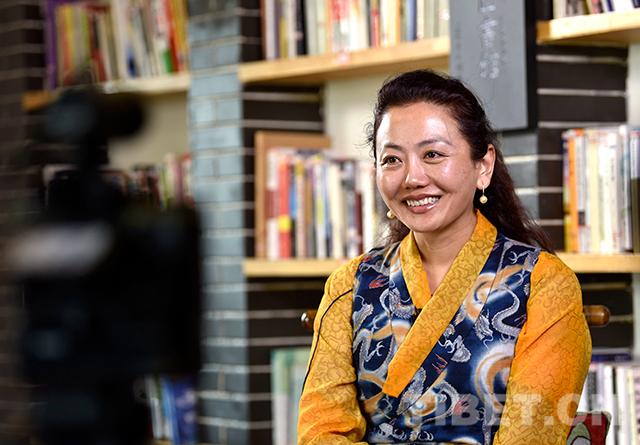 She has become accustomed to such a mode of work: either sinking into the vast volume of books, or traveling on the road to countryside for investigation and survey.
Every time to consult a large number of information, or to make investigation in the countryside will be not only an opportunity for her to learn, but to increase knowledge.
She said it is her honor and an affirmation to her that she can understand the current economic and social development in Tibet and provide some advice and suggestions through her and her colleagues' research and analysis.  
When she returns home to be a daughter, a wife and a mother, she can also handle it calmly ... 
She is Penpa Lhamo, an associate researcher of the South Asia Research Institute of Tibet Academy of Social Science, and a delicate and beautiful Tibetan woman wearing apricot silk long-sleeved shirt inside the Tibetan-style waistcoat when I first saw her.
The South Asia Research Institute of Tibet Academy of Social Science is mainly engaged in some basic research on the history, economy and culture of the South Asian countries around Tibet.
"My unit is positioned to serve as a 'think tank' for the government and to provide some decision-making advice to the government with a third-party role. It is also necessary to evaluate some policy implementation, such as whether there is any problem in the implementation of a certain measure or policy, or if there are some experiences that need to be summarized and popularized."
Penpa Lhamo is good at study since her childhood. And she was admitted into the Southwest University of Political Science & Law in southwest China's Chongqing City, then entered the Renmin University of China and Sichuan University to pursue a master's and doctoral degree, during which she also went to the University of Oslo in Norway and the Columbia University of the US for further study.
Because of the major she studied in college, she was engaged in research after graduation.
"At first, it was a bit dull. In fact the work is actually very simple, you calm down to do some theoretical or textual research, you do a lot of social research, go to the front-line for collection of data, and analysis those data with theory. May be it is related to my own character, whether it is to do desk work, or study in the countryside, I always feel that these seemingly boring things are also very interesting," said Penpa Lhamo.   
When arriving at a place, it is a must to learn about its basic situation, to learn the local economic development situation and customs from local management staff. Penpa Lhamo feel that every time to the grassroots, it is an opportunity to enrich her knowledge.
"Every time we go back from the grassroots, we all feel that books are books after all, there are many things need to go to the grassroots to investigate, only in this way can you enrich your feelings when engaging in research and analysis."  
Tibet is a region of rich cultural resource. The protection and inheritance of ethnic culture has been widely concerned.
Penpa said that although all aspects of society are concerned about this, we still need to think more, research more in practical operation.
For example, that the protection of intellectual property is a question raised from the perspective of law, but how to combine it with the protection of intangible cultural heritages is a problem that scholars should think about, and the relevant departments should consider.
"Taking Thangka painting's intellectual property as an example, we all know that Thangka painting is divided into a number of sects, there are many inheritors. How to use the modern protection system to better protect the intellectual property of their works? I am also thinking about it. Thangka is unlike a painting the painter painted, it has the traditional techniques and strict rules. It's easy to imitate. So how to protect the rights and interests of those creators, I think, measures should been taken from the perspective of techniques and laws."
In addition to a scholar, Penpa Lhamo is also a member of the China Society for Human Rights Studies.
When talking about the protection of rights and interests of contemporary Tibetan women, Penpa Lhamo gave full affirmation.
"This is unprecedented," she said.
"The first thing we mention about women's rights is the right to live, just like human rights. It is no longer a question of the right to live now, we are more concerned with the right to development. These opportunities should be equal for women to access to education, participate in political affairs or are involved in socio-economic and cultural development.
At work, Penpa Lhamo is doing well, and she has her own way of dealing with her life.
Some people say that the pressure of modern women is more than ever, women have to pay a lot of time and energy to deal with housework.
The way of Penpa Lhamo is to "allocate your time and energy well".
She said that she was particularly busy in recent time, and had to focus on the study of three subjects, having no time to attend to the elderly and children in family.
But she meant to occupy herself by surveys during this period.
Because during this time the children are in summer vacation, they can write homework at home, or have fun. Also, in summer parents' Physical conditions are certainly better than in winter. While in winter, she will try to reduce the time to investigate outside, concentrating time to do desk work at home to take care of the family.
Wanting to take care of the career and family, first of all, one must have a good body, so does the mentality.
Penpa Lhamo's requirement to herself is to slow down the pace when finding herself is very tired. To read a book, or lie on the couch and do nothing, or accompany the parents to chat, these are her decompression methods.
"Mobilize yourself, take use of all kinds of time, and plan your own things," said Penpa Lhamo.
Editor: Tommy Tan.