South Africa says to support South Sudan's peace deal implementation
2018-10-16 11:10:01 | From:Xinhua
  South African Deputy President David Mabuza on Monday reiterated his country's commitment to support South Sudan's peace deal implementation signed by the warring parties to restore stability in the nation.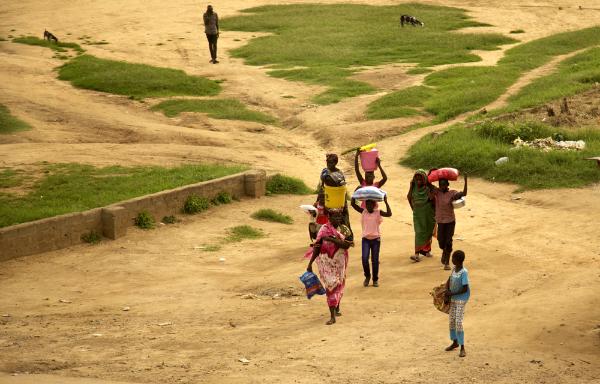 People walk with their belongings in the capital Juba, South Sudan, July 9, 2016. [File Photo: AP]
  Mabuza who arrived in Juba on Sunday for a two day visit held talks with South Sudan President Salva Kiir in Juba where they discussed ways to boost the implementation of the recently inked revitalized agreement.
  "Our main objective here is to support all the initiatives that are aimed at finding long lasting solutions and peace for the people of South Sudan," Mabuza told journalists in Juba.
  He said he has met all the parties to the agreement that was signed in the Sudanese capital, Khartoum in September by the rivals and saw positive mood.
  "I am grateful that all the participants, including the government are all optimistic that this kind of an agreement that is before us now must be implemented," Mabuza said.
  He urged all the Heads of States and governments in the region to renew their synergies and support the agreement, revealing that he will meet with the Ugandan President Yoweri Museveni, Uhuru Kenyatta of Kenya and Sudan's Omar al-Bashir over South Sudan's peace pact in an effort to make it a reality.
  "So that all of us are seen to be facing one direction in supporting the people of South Sudan to implement the peace agreement. We are leaving South Sudan very happy, confident that tomorrow will be a better day," he noted.
  Mayiik Ayii Deng, minister in the office of the South Sudanese president, said Mabuza visited Juba as the special envoy of the South African President Cyril Ramaphosa to witness the parties' commitment towards implementation of the peace pact to end nearly five years of conflict.
  "The president assured the deputy president that he is 100 percent willing to implement the accord," Deng said.
  South Sudan's conflict that has now entered its fifth year since it erupted in 2013 after forces loyal to Kiir and his former deputy Machar engaged in combat.
  The 2015 peace agreement to end the violence was again violated in July 2016 when the rival factions resumed fighting in the capital Juba, forcing Machar to flee into exile.
  Millions of South Sudanese civilians have sought refuge in neighboring countries as the conflict rages on despite attempts by international players to end it.