Imran Khan takes oath as Pakistani prime minister
2018-08-18 14:20:54 | From:Xinhua
  Cricketer-turned-politician Imran Khan was sworn in as prime minister of Pakistan in Islamabad on Saturday morning.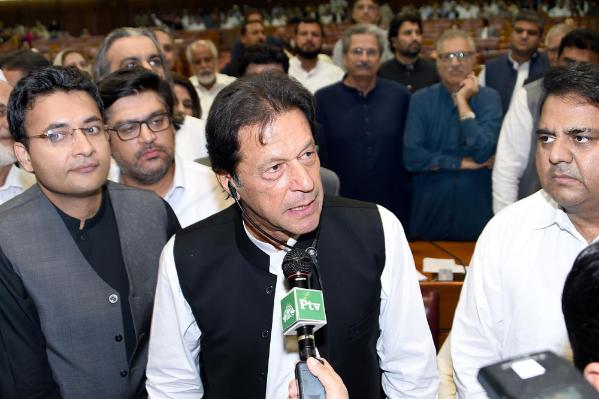 In this handout photograph released by the National Assembly (NA) on August 17, 2018, Pakistan's newly appointed Prime Minister Imran Khan (C) addresses the lawmakers after been elected by National Assembly in Islamabad on August 17, 2018. [Photo: Handout/NA/AFP]
  President Mamnoon Hussain administered the oath to Imran Khan as the 22nd prime minister of Pakistan. Caretaker Prime Minister Nasir ul Mulk was also present at the ceremony.
  The ceremony was attended by diplomats, ministers, lawmakers, other political leaders, military and civil officials and dignitaries.
  The national anthem was played as Imran Khan, wearing the national dress, entered the main hall of the Presidency. Khan's wife Bushra also attended the ceremony.
  The national assembly, or the lower house of the parliament, elected Imran Khan on Friday.
  He had received 176 votes as against 96 votes secured by his only rival Shehbaz Sharif of the opposition Pakistan Muslim League-Nawaz (PML-N).
  Khan's Pakistan Tehreek-e-Insaf, or Movement for Justice, emerged as the single largest party in the July 25 parliamentary elections.
Related News
Former Pakistani cricket star Imran Khan told media on Thursday that his Pakistan Tehrik-i-Insaf (PTI) party won victory in the general election.

On July 12th, the Tibet Mountain Hiking Association of China and the Pakistan Mountain Hiking Club hosted a hiking forum in Lhasa.

Indian Prime Minister Narendra Modi spoke to Chairman of Pakistan Tehrik-i-Insaf (PTI) Imran Khan and congratulated him for his party emerging as the largest political party in the National Assembly of Pakistan in the just-concluded general elections, official sources said Monday.