Trial of former Malaysian PM Najib set for February next year
2018-08-10 21:50:18 | From:Xinhua
  A trial date for the graft case of former Malaysian Prime Minister Najib Razak was set by a Malaysian court on Friday to start from Feb. 12 to 28 and continue from March 4 to 29 in 2019.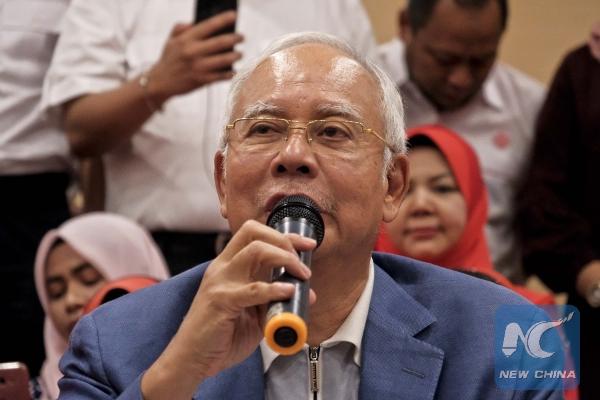 Former Malaysian Prime Minster Najib Razak attends a press conference in Kuala Lumpur, Malaysia, May 12, 2018. [Photo: Xinhua]
  Najib is faced with charges of criminal breach of trust, abuse of power and money laundering, all of which linked to a 42-million-ringgit (10.3-million-U.S. dollar) deposit transferred into his personal bank account by SRC International, a former unit of Malaysian state fund 1MDB.
  Najib has pleaded not guilty to all charges.
  Judge Mohd Nazlan Mohd Ghazali of the Kuala Lumpur High Court, during a pre-trial hearing on Friday, proposed to start the trial later this year, possibly in October and November, but the lead counsel of Najib, Muhammad Shafee Abdullah, asked for a postponement, citing the precedent of other high-profile cases, a delay in document delivery and his schedule.
  Mohd Nazlan also dismissed an application from Najib to extend a gag order preventing the media and public from making "biased statements" on the case, saying that Najib's reasons that such statements and opinions will deny him a fair trial do not stand.
  Muhammad Shafee said his client will appeal the decision.
  The trial will decide whether Najib will become the first retired Malaysian leader behind bars. According to the law, each of Najib's criminal breach of trust charges carries a maximum sentence of 20 years in prison while each of the money laundering charge carries a maximum sentence of 15 years in prison and a heavy fine.