Peace was hard-earned and all should make contributions to social development, says 11th Panchen Lama
2018-08-20 09:31:00 | From:China Tibet Online
"Today, August 15, is a special day. I believe everyone knows that it is the anniversary of Japan's unconditional surrender 73 years ago. Peace was hard-earned, and 35 million compatriots sacrificed themselves for it." Panchen Lama Erdoni Choekyi Gyalpo, a member of the Standing Committee of the Chinese People's Political Consultative Conference (CPPCC) and vice-president of the Chinese Buddhist Association, made the above remarks on August 15 when he was in Lhoka, Tibet, conducting surveys and research as well as Buddhist activities.
At the local welcoming ceremony, the 11th Panchen Lama said that we are lucky to live in a great era, and the Party has created a great history with the people.. However, this blessing still requires each citizen of all ethnic groups and backgrounds to contribute their wisdom and efforts.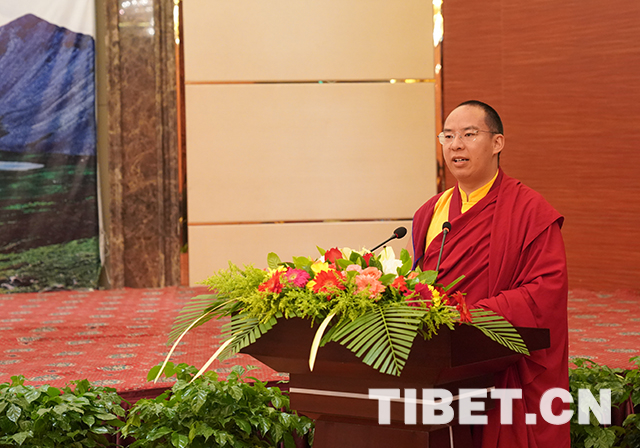 The 11th Panchen Lama delivers a speech.