China's planted forests break world record: officials
2018-10-24 00:09:21 | From:GlobalTimes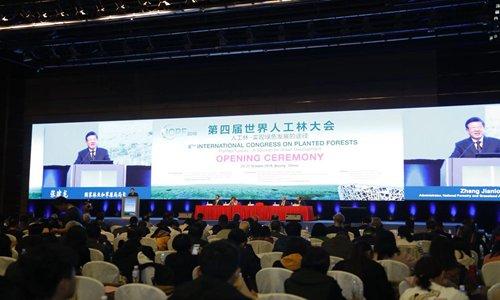 The fourth International Congress on Planted Forests commenced in Beijing on Tuesday. The three-day conference covers a wide range of topics including the sustainability of planted forests in the context of a changing climate. Photo: courtesy of the State Forestry and Grassland Administrations
  China's planted forest coverage tops the world at 69.3 million hectares and demonstrates the nation's proactive determination to combat global climate change, forestry officials said at a conference in Beijing on Tuesday.
  China has planted more trees than any other countries and the planted forests are playing an increasingly important role in improving the country's environment and curbing climate change, Zhang Jianlong, administrator of the State Forestry and Grassland Administrations (SFGA) said at the International Congress on Planted Forests.
  Themed "planted forests - a solution for green development," the three-day event included topics such as the sustainability of planted forests in the context of a changing climate.
  China began planting forests in the 1950s, Zhang said. At that time, the forests met the country's growing needs for timber, but now planted forests play a significant role in curbing emissions, preserving ecologic diversity and preventing water and soil erosion, he said.
  Planted forest accounts for 36 percent of all Chinese forestation, Xiao Wenfa, vice dean of the Chinese Academy of Forestry, said at the conference on Monday, citing a 2014 national forest resources survey.
  China logged 155 million cubic meters of planted forest annually from 2009 to 2013, and 85 percent of timber comes from planted forests, Xiao said.
  The function of planted forests has gradually evolved from providing timber to ecological sustainability, Xiao noted. Successful examples of using planted forests to improve local ecology include the Sanbei Shelter Forest Project, a wind breaking forest strip designed to hold back the expansion of the Gobi Desert, and the Shelter Forest along the Yangtze River, Xiao said.
  About 6.6 million hectares of forest have been planted each year in China in the past three decades, with the country's forest coverage rising from 8.6 percent in 1949 to 21.66 percent in 2017, Peng Youdong, deputy head of the SFGA, said at a conference in March.
  Chinese authorities claim the Saihanba National Forest Park, covering an area of 75,000 hectares in North China's Hebei Province, is the world's largest planted forest.