Forum held to mark WWII victory anniversary
2018-09-04 02:22:06 | From:Xinhua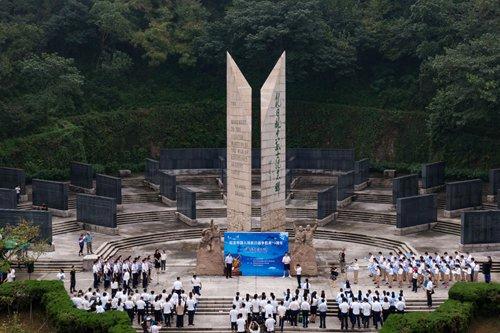 More than 200 local residents from different communities of Nanjing, capital of East China's Jiangsu Province, gathered at a World War II martyr memorial monument to commemorate the martyr's sacrifices on Monday, which marks the 73rd anniversary of the victory in the Chinese People's War of Resistance Against Japanese Aggression (1931-45). Photo: VCG
  China on Monday held a symposium to commemorate the 73rd anniversary of the victory in the Chinese People's War of Resistance Against Japanese Aggression (1931-45) and the World Anti-Fascist War.
  Huang Kunming, a member of the Political Bureau of the Communist Party of China (CPC) Central Committee and head of the Publicity Department of the CPC Central Committee, joined about 200 representatives from various circles at the event in Beijing. Senior scholars, Party officials and military officers, World War II veterans and student representatives spoke at the symposium and discussed the significance of the victory. They stressed that the historical event should be remembered and the heroes should be honored, expressing confidence and determination to safeguard peace and development.
  Families of war heroes, representatives of non-Communist parties and foreigners who contributed to China's war against Japanese aggression also attended the symposium.
  Xinhua