Africa offered more aid
2018-09-04 00:51:37 | From:GlobalTimes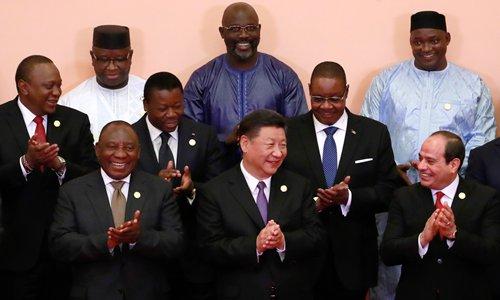 Chinese President Xi Jinping (front center) and African leaders attending the opening ceremony of the 2018 Beijing Summit of the Forum on China-Africa Cooperation pose for a group photo on Monday. Photo: AFP
  China has set no political preconditions to and will not interfere with African countries' domestic and internal affairs, Chinese President Xi Jinping stressed on Monday, as he announced China will provide $60 billion in financing to African countries.
  The remarks were made at the opening ceremony of the 2018 Beijing Summit of the Forum on China-Africa Cooperation (FOCAC).
  Xi said, China follows a "five-no" approach: no interference in African countries' pursuit of development paths that fit their national conditions; no interference in African countries' internal affairs; no imposition of China's will on African countries; no attachment of political strings to assistance to Africa; and no seeking selfish political gains in investment and financing cooperation with Africa, the Xinhua News Agency reported.
  The approach sends a strong rebuke to Western accusation that China's investment in Africa is a new form of "neo-colonialism," Deng Yanting, an assistant research fellow in West-Asian and African Studies at the Chinese Academy of Social Sciences, told the Global Times.
  Xi's remarks also assured African countries that China has always insisted and will continue to insist on the principle of equality and mutual benefit, said Deng.
  "No one could deny the remarkable achievements made in China-Africa cooperation," Xi stressed in his Monday speech.
  Xi also announced that the $60 billion in financing to Africa will include $15 billion in grants, interest-free loans and concessional loans, $20 billion in lines of credit, the establishment of a $10 billion special fund for development financing and a $5 billion special fund for financing imports from Africa.
  The financing is designed to meet the practical needs of the enhanced cooperation between China and African countries and will help African countries walk a more independent and sustainable path, said Deng.
  The future of China-Africa cooperation will focus on industrialization, modernization of agriculture, the manufacturing and distribution of commodities and social governance, said Cheng Tao, former director-general of the Department of African Affairs under China'sMinistry of Foreign Affairs.
  "In Africa, economic activities are increasingly driven by the market, instead of by policies, and cooperation between China and African countries will focus more on projects that could lead to independent, long-term and sustainable development of African countries," Cheng told the Global Times on Monday.
  "The forum represents a new start for China-Africa relations," said Cheng.
  "Debt trap"
  China will exempt certain African countries from outstanding debts incurred in the form of interest-free Chinese government loans due by the end of 2018, Xi said.
  The exemption will be granted to Africa's least developed countries, heavily indebted and poor countries and landlocked and small island developing countries that have diplomatic relations with China, Xi said
  The supportive measures come amid Western accusation that China's investment in Africa would create "debt traps" for those countries. The accusations are groundless, contradicted with facts and are aimed at smearing China's good intentions, Liu Guijin, former Chinese Government Special Representative for African Affairs, told the Global Times on Monday.
  From 2000 to 2016, China's loans accounted for only 1.8 percent of Africa's total foreign debt, and most loans went to much needed infrastructure development, Xinhua reported.
  Western countries, especially the US, believe China is threatening their interests in Africa, said Liu. "However, China has only sought to spur mutual development, and it has no intention of seeking hegemony in the continent," Liu said.
  "Western discomfort comes from its anxiety toward a fast-rising China and its diplomatic progress in the global stage. However, such a narrow-minded perception and other noises will not hinder China's cooperation with African countries," Liu stressed.
  China's loans are linked to projects that aimed at promoting the development of African countries' economies, which will help them to repay their loans, said Liu.