Tibetan Knives popular at home and abroad
2018-08-30 09:36:00 | From:China Tibet Online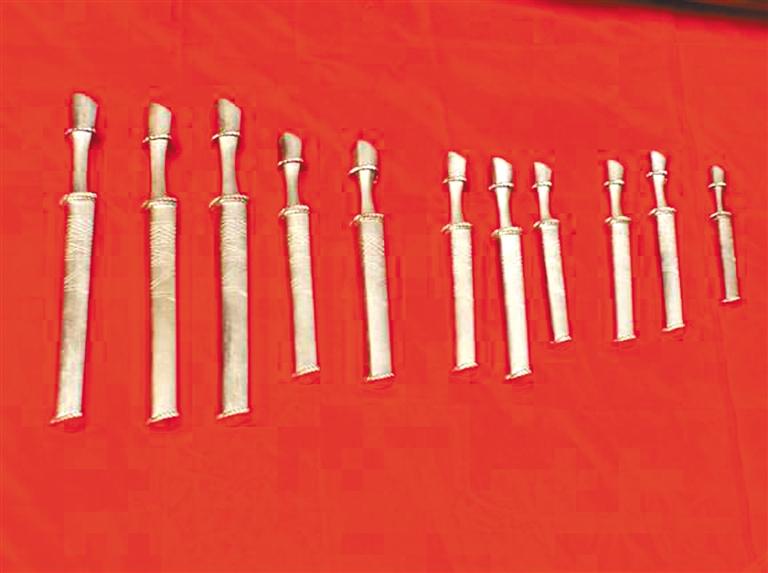 Lhatse Tibetan Knives [Photo/xzxw.com]
Tibetan knives are one of the most representative handicrafts made by Tibetan people, and they have been used in people's production and livelihood, and for self-defense and decorative functions.
The Lhatse Tibetan Knives are the most well-known of those produced in Shigatse, Tibet. They are characterized by excellent steel, tough blade, fine workmanship, and simple shape. They are not only beloved by local people, but also popular with domestic and foreign tourists.
The Lhatse Xog Tibetan Knives are mainly produced in Lhatse Xog Village, Lhatse County in the central part of Shigatse. The knives are more than 1,000 years old, and there are three main types: the long knife, which is one meter long at most; the short knife, which is about 40 centimeters long; and the small knife, which is only a dozen centimeters long.
The general production process for making Tibetan knives includes smelting, melting, mold casting, pounding, engraving the inlay, welding the pieces together, reinforcing the metal, filing, shaping, sculpting, magnesium washing, and polishing.
The Lhatse Tibetan Knife is made of forged steel and is finely processed. The surface of the knife is clean and the blade is sharp. The handle of the knife is made from yak horns or wood and is wrapped in silver wire, copper wire, or iron wire. The top of the hilt is covered with copper or iron, and some are also beset with silver. The sheaths are also very elegant in silver or copper, and some are engraved with flowers, animal prints, or inlaid with jewels and gold plating, which are especially gorgeous.
In 2007, the Lhatse Tibetan Knife was listed as an intangible cultural heritage item at the Tibet Autonomous Region level. In 2008, it was listed as an intangible cultural heritage item at the national level.
Editor: Tommy Tan.