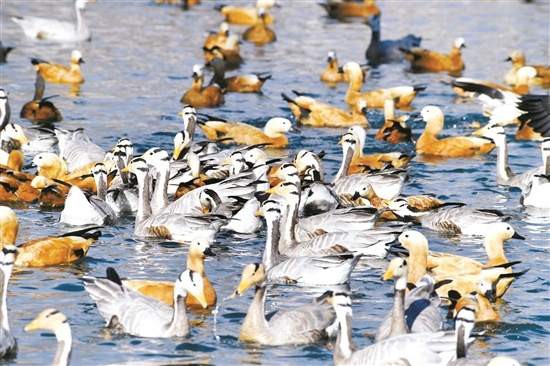 [Photo/Lhasa Evening Paper]
Every year, the time from late October through mid-December is when migratory birds move to the south for winter. Places such as Dzongyab Lukhang Park, the Lalu Wetlands, banks of the Lhasa River, and the Hutoushan Water Reservoir in Linzhou County of southwest China's Tibet are all areas which attract migratory birds.
During December in Lhasa, groups of bar-headed geese, ruddy shelducks, yellow ducks, and black-necked cranes could be seen grazing or flying along the Lhasa River Valley.
This region, with its healthy ecological conditions, has made migratory birds consider it as a fertile oasis and the perfect location for wintering.
Every migratory season, Linzhou County would always welcome many migratory birds who came from afar, becoming a "bird's paradise". The black-necked cranes are especially numerous. As a first-class national protected species, the black-necked cranes are the only cranes in the world who thrive on plateau. To the people of Tibet, the black-necked cranes are sacred and a symbol of harmony.
According to the Bureau of Forestry of Linzhou County, black-necked cranes arrive in the region during late November through December of every year. After three years, the number of cranes has reached 1800-2000 in Linzhou County. The black-necked cranes' primary habitat is the Kartse Reservoir and the Hutoushan Reservoir, which is the most concentrated conservation location for cranes in mid-Yarlung Tsangpo River valley.
Editor: Tommy Tan.