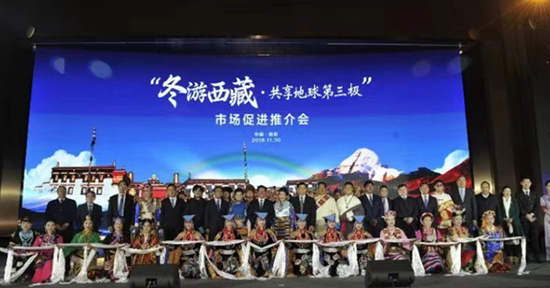 Tour market promotion confernce[ Photo/chinadaily.com.cn]
The "Winter Tour to Tibet, sharing the third pole of the earth", a tour market promotion conference, was held in Xi'an, Shaanxi province, on Nov 30. It sought to deepen tourism cooperation between Shaanxi and Tibet.
According to Doje Cezhug, vice chairman of the Tibet autonomous regional government, the region has decided to launch a new round of winter tours to Tibet from Nov 1, 2018 to March 15, 2019, and will continue the tours under a preferential policy of welcoming more tourists to Tibet in the season of ice and snow.
Zhao Gang, deputy governor of the Shaanxi provincial government, said that the tourism system of Shaanxi Province, headed by the Shaanxi Provincial Department of Culture and Tourism, has always attached great importance to supporting tourism to Tibet, thoroughly implemented counterpart interconnection and various projects, and organized experts to make suggestions for the region and Ali's tourism development. The province has invested a lot of funds to strengthen the construction of tourism infrastructure.
At the promotion meeting, three important cooperation agreements were signed, including a strategic cooperation agreement between the Shaanxi Provincial Department of Culture and Tourism and the Tourism Development Department of the Tibet Autonomous Region, a strategic cooperation agreement between the Xi'an Tourism Development Committee and the Ali Tourism Development Committee, and a cooperation agreement between the Tibet Travel Service Winter Tour Union and the Tibet Air Service.
The province and the region hope that the cooperation will promote exchanges between them in various fields such as cultural tourism, realize mutual benefits, and promote the healthy and rapid development of the cultural tourism industry they share.
At the end of the conference, Tibetan artists showcased unique singing and dancing, special to the warm, unrestrained, industrious and kind Tibetan people. Those people are the guardians of thousands of mountains and rivers. They invite guests and friends from all directions to visit Tibet in winter and share with them the third pole of the earth.