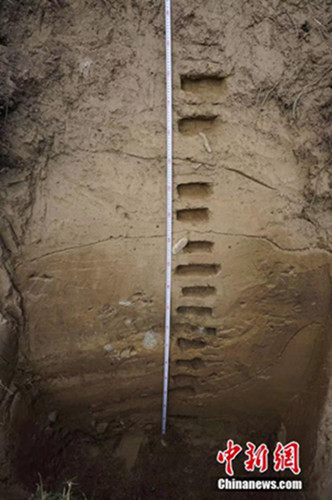 Ancient human habitation found in a village of Nyingchi, Tibet. [Photo/China News Service]
A new study has discovered that humans first set foot on the Qinghai-Tibet Plateau around 30,000-40,000 years ago.
According to an article published in Science on Thursday, a research team led by the Chinese Academy of Sciences has found pieces of stone artifacts, pottery sherds as well as animal bones in a village in Nyingchi, Tibet autonomous region. Two damaged graves were also found in the archeology site, with some weathered human remains jutting out, hinting at the oldest signs of human activity in this highest-altitude landscape.
The team started the field study in October along Lhasa River, Niyang River and Yarlung Zangbo River, digging a total of 40 pits, with 24 of them showing records of human occupation.
Previously study showed that the hunter-gatherer humans were living on the margins of the Qinghai-Tibet Plateau about 15,000 years ago. The recent study with human habitation in interior of the plateau might provide strong evidence for the plateau's cultural evolution.